Estimated reading time: 18 minutes
Twinkly lights, stockings, and wreaths are, without a doubt, classic holiday must-haves! But if you run a small business, you know there's one thing that can take your holiday game to the next level: functional signage. You've come to the right place where we offer not only creative solutions, but also ideas you can use for your holiday makeover right away.
In this article, we've curated the ultimate list of Christmas signage ideas to give your storefront that extra festive flair inside and out. Plus, we'll show you how to extend the holiday magic by taking your signage online and share the best Christmas signage practices to ensure your signs are a guaranteed hit this holiday season.
Indoor Christmas signage ideas
1. Add a holiday touch to your window display
As the holiday season approaches, it's time to give your storefront window display a festive makeover. Whether you're showcasing great gifts, hanging snowflakes, or decking it out with a rainbow of Christmas trees, let's take it a step further this year!
Enhance the charm and allure of your shop's window by incorporating seasonal decals or posters. Those can effortlessly bring a touch of yuletide magic to your storefront without requiring extensive effort.
Source: Winter holidays window display at Selfridges via Retail Focus
Here are a few design ideas for your Christmas posters:
Bring the North Pole magic to your window with a lively scene of Santa and his elves busy at work, surrounded by festive toys and gifts.
Create a dreamy snowy landscape complete with glistening snowflakes, winter animals, and a cozy cabin adorned with holiday lights.
Feature a collage of your favorite Christmas carol lyrics in whimsical fonts and colors that evoke the joy of the season.
Go old-school with a retro design featuring classic holiday motifs like vintage ornaments, nostalgic typography, and old-fashioned holiday greetings.
Celebrate the beauty of nature with a design featuring holly, mistletoe, poinsettias, and other festive botanical elements.
Celebrate diverse cultures with a multicultural design featuring international holiday traditions and symbols.
Remember to make your posters eye-catching, vibrant, and true to your brand's style. Incorporate
playful fonts and colors that resonate with the joyous spirit of winter holidays.

To make your window display even more exciting, pair Christmas posters with matching stickers. They'll make a fantastic addition to your window display, bringing an extra touch of festive flair and versatility. Here are some engaging ideas for using Christmas stickers on your window display:
Create the illusion of a winter wonderland by placing snowflake stickers in various sizes across your window. Add a touch of magic with sparkling or holographic snowflakes that catch the light.
Feature adorable Christmas characters like Santa, reindeer, elves, and gingerbread people with cute stickers. Arrange them playfully to create a delightful scene.
Use sticker frames to border your window display, like a big gift-wrapped box or a festive wreath. It frames your products or scenes in a charming and eye-catching way.
Line your window with candy cane stickers, creating a charming pathway that leads to your store's entrance.
2. Communicate seasonal happenings
Are you planning on hosting a holiday sale or festive event? Let customers know what they can look forward to with posters hung throughout your store and flyers tucked into every shopping bag. A poster decked out with seasonal elements (like snowflakes, holiday trees or string lights) will instantly add a holiday feel to any wall in your store – and get customers excited about what's to come.
When designing posters to communicate seasonal happenings, it's essential to include key information that effectively conveys the details of the event or promotion. Don't forget the following details in your Christmas signage communicating seasonal happenings:
Event title. Clearly state the name of the seasonal happening, whether it's a holiday sale, festive
event, or special celebration.
Date and time. The holiday season is traditionally the busiest of them all. So, to make sure your
store visitors don't miss out on the festive fun, specify the date and time of your incredible
event, right down to the nitty-gritty details, including the starting and ending times, if needed.
The more specific you are, the merrier the turnout!
Location. Granted that your holiday event is one worth attending, your store visitors will want to take a quick picture of the poster to go back to it once they plan their holiday outings and invite their loved ones to join them. Attract new shoppers by including the address of your store or venue where the seasonal happening will take place in your Christmas signage.
Key highlights. Highlight any special activities, performances, contests, or promotions that will be part of the seasonal happening.
Offers and discounts. If it's a holiday sale, mention the discounts, offers, or special deals customers can enjoy during the event.
3. Promote your seasonal specials
Even if you aren't hosting any events this holiday season, there will definitely be seasonal specials you want to promote. So, why not make it a part of your Christmas signage?
Promote your holiday deals, discounts, or limited-time offers with eye-catching signs placed strategically throughout your store.
To make your seasonal offerings even more eye-catching, tie them to the current situation just like Lifestyle did in 2020 amid the Coronavirus breakout.
Source: Lifestyle's Christmas signage announcing changes due to Covid restrictions via Lifestyle
4. Build a festive photo booth
A festive photo booth is a phenomenal Christmas signage idea for businesses for a multitude of reasons. Let's uncover the magic behind this concept.
First things first, a well-designed and eye-catching festive photo booth instantly grabs the attention of passersby, drawing them towards your business. Its festive appearance sets the mood and creates an inviting atmosphere that people can't resist.
A photo booth also encourages customers to take fun pictures and share them on their social media accounts, effectively promoting your brand to a wider audience. It also helps to strengthen your customers' connection with your brand as you create a memorable experience for them.Finally, the joy and excitement generated by a festive photo booth often lead to word-of-mouth marketing.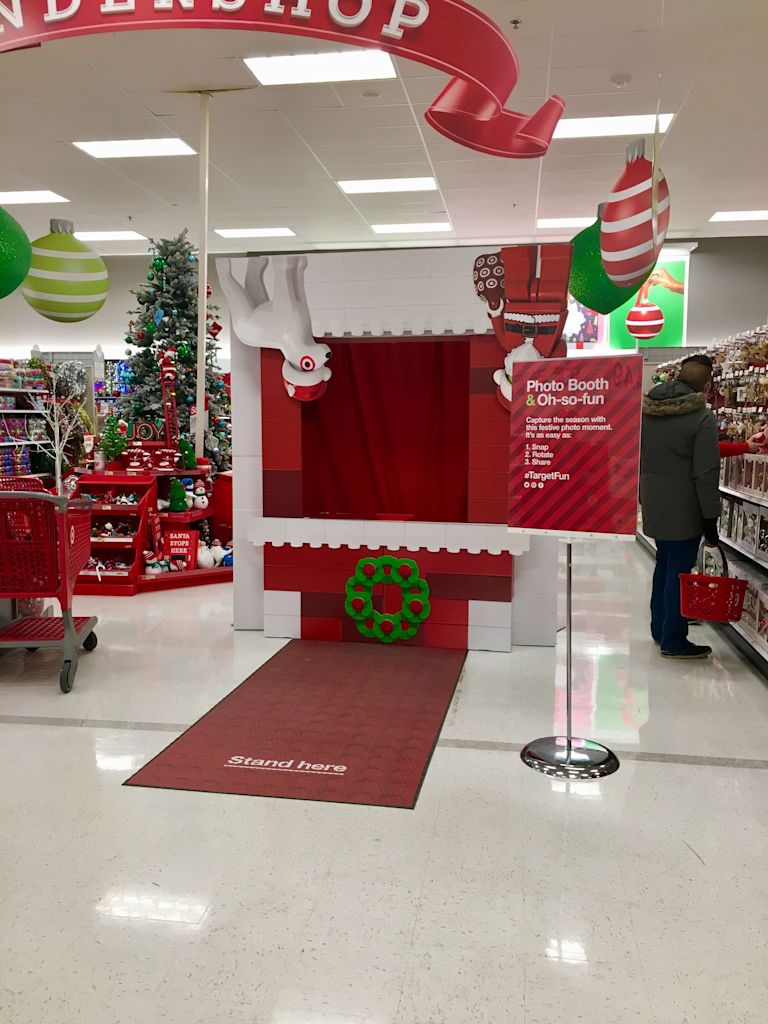 Source: Photo Booth & Oh-so-fun Christmas signage at Target via Pinterest
However, you can only leverage the benefits of this Christmas signage idea if you approach it with due diligence. Here are a few things to consider when mounting your holiday photo booth:
Create a visually appealing backdrop that aligns with your brand and reflects the holiday theme. Incorporate colorful props, garlands, and seasonal elements to make the photo booth stand out.
Humor goes a long way when it comes to festive photo booths. Try to spice your backdrop design up with some fun elements that will make your store visitors laugh. That way, they'll be more likely to take a picture and share it online.
Choose a variety of fun and creative props that match the holiday theme. Santa hats, reindeer antlers, and funny holiday glasses are just a few examples of props that will spark joy and creativity.
Keep an eye on the photo booth area to ensure props and decorations are in good condition. Engage with customers using the photo booth, be friendly, and encourage them to have a blast!
Consider having a printer available for customers to receive physical copies of their photos. It adds a personal touch and gives them a tangible keepsake from their visit.
Add your branding elements to the photo booth and the props you leave there to get more brand recognition and raise brand awareness once your visitors share their festive pictures on their socials.
5. Do a Christmas countdown
If you're aiming to infuse your space with festive spirit and create a jolly atmosphere, we've got the perfect Christmas signage idea for you — a delightful countdown to Christmas!
Source: Christmas signage counting down to Christmas at The Otter via Facebook
It builds excitement and anticipation among your customers, turning each passing day into a magical journey toward the big celebration, encourages repeat visitors, and can provide you with content for your business's social media pages. This means more foot traffic, increased opportunities for sales, and increased brand awareness!
To make your holiday signage even more of a customer magnet, reveal daily surprises or offers as each day passes. The "twelve days of Christmas," with a spin, if you will.
Ensure the countdown Christmas signage is prominently displayed and designed to capture attention. Use vibrant colors, festive fonts, and captivating graphics to make it a visual delight.
6. Help your shoppers with a holiday gift guide
The holiday season is a time of joy, celebration, and, of course, gift-giving! As a business owner, you have the magical opportunity to make your customers' holiday shopping experience seamless and delightful. One of the best ways to achieve this is by creating captivating Christmas signage that acts as a guiding star for gift seekers – the holiday gift guide!
Christmas signage announcing colorfully curated holiday gifts
Holiday shopping can sometimes feel like navigating a winter wonderland maze, but with your helpful gift guide signage, customers can breeze through the aisles with ease. The clear and organized sections will guide them directly to the perfect presents for their loved ones.
Picture this: Your customers walk into your store, and they're immediately drawn to beautifully designed Christmas signage that reads "Gifts for Him," "Gifts for Her," and "Gifts for Kids." Instantly, you've become their holiday hero!
7. Direct customers to the gift wrapping station
The gift wrapping station is a festive hub where shoppers can add that perfect finishing touch to their presents, turning them into beautifully wrapped surprises ready to be placed under the tree.
When it comes to holiday-themed indoor directional signs, creativity knows no bounds! To add a festive touch and guide your customers through the winter wonderland your space becomes during the holiday season, consider using these materials:
Hang holiday-themed fabric banners or vinyl banners with cheerful designs and vibrant colors. Include arrows or cute icons to point the way to different sections in your store.
Craft wooden signs shaped like ornaments and paint them with festive colors and patterns. Hang them from ceiling hooks or place them on stands to lead the way.
Decorate mini Christmas trees with ornaments and lights, and place them strategically to guide shoppers through your store. Add signage tags to the trees with directions.
Create whimsical North Pole signposts using pole banners.
Add a playful touch by placing stickers of reindeer footprints on the floor, leading the way to the gift wrapping station.
Don't overlook the power of floor decals! Place festive decals in the shape of gift boxes or candy canes leading the path towards the gift wrapping station.
Source: Holiday-themed in-store directional signs via Front Signs
In case gift wrapping isn't something your business does, you can always tweak this Christmas signage idea to fit your business — holiday-themed signs are super versatile as they can direct to virtually anything.
8. Gamify the process with an interactive Christmas signage
With an interactive Christmas signage approach, you can transform ordinary shopping into an exciting and memorable adventure.
Here are some delightful ideas to bring the holiday spirit to life:
Scratch-off promotions: Who doesn't love a surprise? Create posters or cards with scratch-off elements, revealing special discounts, secret codes, or festive messages. Customers will enjoy the thrill of uncovering hidden surprises as they engage with your interactive signage.
Augmented Reality (AR) experiences: Embrace cutting-edge technology by incorporating augmented reality into your Christmas signage. Invite customers to use their smartphones or tablets to unlock virtual surprises, playful characters, or holiday-themed games that dance into reality.
Wishlist wonders: Make your customers' wishes come true with a fun and interactive wishlist poster. Encourage shoppers to jot down their holiday dreams, from coveted gifts to heartwarming wishes. Your store's "Santa's Elves" (your team) can then work their magic to fulfill these holiday desires.
Elf scavenger hunt: Sprinkle some elf magic throughout your store with a scavenger hunt! Hide cute elf icons or ornaments in various sections, and provide customers with a checklist to find them all. Those who complete the hunt can receive a special holiday treat.
Interactive QR codes: Add QR codes to your Christmas signage, leading customers to online games, holiday-themed videos, or exclusive deals. This interactive twist brings an extra layer of engagement to your signage.
9. Hang up a festive poster on the door to wish your customers a jolly Christmas
Running short on time and budget but still want to give your business space a merry holiday makeover? Embrace the charm of easy door posters that bring the festive spirit to life without breaking the bank.
With this hassle-free Christmas signage idea, you can effortlessly transform your door into a delightful canvas of holiday cheer.
Source: Examples of Christmas signage to spread the joy of the holiday season via Front Signs
Outdoor Christmas signage ideas
10. Set up a sidewalk sign
When it comes to spreading holiday cheer and capturing the attention of bustling holiday shoppers, the classic sidewalk sign emerges as a true Christmas signage champion. It's a time-honored tradition embraced all over the world, and there's no mystery why — it simply works wonders!
With a festive sidewalk sign, you have the perfect tool to enchant passersby and beckon them into your holiday wonderland. Here's why this age-old Christmas signage idea remains so popular and effective:
A well-designed sidewalk sign brings a splash of festive flair to your storefront, instantly catching the eye of busy shoppers on the go. With the right touch, it becomes a mesmerizing beacon of holiday charm.
The beauty of a festive sidewalk sign lies in its timeless appeal. It resonates with people of all ages, bringing back fond memories and stirring up the excitement of the season.
In the age of social media, a festive sidewalk sign offers a chance to create Instagrammable moments. Shoppers will be eager to snap pictures in front of your charming sign, spreading the holiday cheer online.
It offers room for creativity. Illustrate a cheerful snowman, a jolly Santa Claus, or a winter wonderland scene, all drawn in colorful chalk that spreads joy and smiles.
11. Put up Christmas sale banners
When the holiday season arrives, 'tis the season for merry shopping and festive celebrations! And what better way to catch the attention of eager shoppers than with eye-catching Christmas sale banners adorning the exterior of your business? These vibrant banners act as festive beacons, drawing in customers with irresistible holiday deals and spreading the joy of the season far and wide.
An example of a Christmas special sale sign
The best thing? You can opt for a creative Christmas banner and come up with a funky phrase to announce your holiday sale. For example…
"Jingle All the Way to Savings!"
"Unwrap the Joy of Discounts!"
"Sleigh the Season with Our Holiday Sales!"
"Merry & Bright Deals Inside!"
"Holly Jolly Savings Await!"
"Deck the Halls with Unbeatable Offers!"
"Tis the Season for Big Savings!"
"Fa-La-La-La-La, Fantastic Deals for All!"
"Christmas Countdown: Limited-Time Offers!"
"Gift-Giving Made Affordable!"
"Ho Ho Huge Savings: Merry Christmas Sale!"
"Sleigh the Deals: Merry Shopping Awaits!"
"Santa's Secret Sale: Get Your Gifts & Save Big!"
12. Tell customers when to shop with holiday hours signage
Details make all the difference – even with something as simple as holiday hours signage. Many businesses adjust their hours during the busy holiday season, so if you're planning to stay open late on Fridays or offer private shopping on weekday mornings, order an updated sign to display your operating hours.
And since you need to order a new sign, anyway, why not give it some holiday flair? Add Christmas baubles or a holly berry-inspired border to make it ready for the season.
To seize the attention of holiday shoppers and create a sense of urgency, incorporate phrases like "when it's gone, it's gone" and "hurry up to buy your holiday essentials" on your holiday hours signage.
13. Install festive directional signage
In the bustling excitement of the holiday season, ensuring your customers have a smooth and joyful shopping experience is paramount. While we've already explored the beauty of directional signs indoors, don't let the holiday magic stop there! Extend the enchantment by guiding visitors through every step of their journey from the moment they spot your store in the distance.
Embrace the power of directional signage to keep the holiday cheer flowing and shoppers in line, making navigation a breeze. Whether it's the delightful floor decals inside your store or the festive A-frame sign on your sidewalk, directional signage plays a pivotal role in creating a seamless and delightful shopping experience for all.
14. Welcome Christmas carolers
The holiday season is a time of coming together, spreading joy, and giving back to the community. As businesses bask in the festive spirit, there's no better way to embrace the true essence of the holidays than by welcoming Christmas carolers with open arms. Let your outdoor Christmas signage extend a warm invitation to these merry troubadours strolling down the street, and watch the magic unfold.
This Christmas signage idea is a stellar one for several reasons:
It fosters community spirit. By opening your doors to Christmas carolers, you foster a sense of community spirit that resonates with both your visitors and the local neighborhood.
It helps to spread festive joy. The joyous melodies of carolers create an enchanting ambiance that delights everyone in the vicinity and adds to the festive charm of your business.
It helps to generate content for social media. Capture the magic of the moment by recording the heartwarming performances of carolers and sharing them on your social media platforms. Not only does this spread holiday joy to a wider audience, but it also showcases your business's involvement in local festivities and generates engaging content that resonates with your online community.
It helps to attract more visitors. The sight and sound of carolers outside your business will naturally attract more visitors who wish to savor the festive spectacle. The performances become a delightful magnet, drawing people to your store, and increasing foot traffic during the holiday season.
In the spirit of giving, consider providing goodies or small gifts to the carolers as they serenade your business. This gesture not only adds to the holiday cheer but also showcases your commitment to supporting and enriching the local community during this special time of the year.
Bonus ideas: Take your signage to your online channels
In today's digital age, the rise of phygital experiences has revolutionized the way businesses engage with their audience. As the demand for seamless online and offline integration grows, it's essential for businesses to expand their online presence creatively.
Embrace the power of your Christmas signage by taking it beyond your physical storefront and into the virtual realm. Discover innovative ways to blend the magic of the holidays with the digital world, impressing customers both in-store and online.
Make your Christmas signage a star of your social media publications
Your Christmas signage deserves more than just physical visibility—it's too good not to shine in the online world as well! So, why not elevate its stardom by showcasing it in the spotlight of your social media accounts? Let your fantastic signage captivate both your in-store customers and your online audience, spreading the festive cheer far and wide.
Here are a few ideas that will help your Christmas signage shine bright on your business socials:
Create heartwarming stories related to your Christmas signage, showcasing how it brings joy and happiness to your customers and employees.
Feature customer testimonials or reviews in front of your Christmas signage. Share heartwarming stories of how your products or services brought joy to their holiday celebrations.
Utilize interactive features on social media platforms like Instagram Stories to showcase your Christmas signage. Use polls, quizzes, and stickers to engage your audience and gather feedback.
Partner with local influencers or businesses and invite them to showcase your Christmas signage in their content. This cross-promotion expands your reach and brings new audiences to your social media platforms.
Keep your signage fresh and captivating every day by incorporating small details like doodles or stickers, and make sure to document these delightful changes on your business's social media pages.
Show behind the scenes of your store's Christmas signage creation process
There's something captivating about the magic that unfolds behind the scenes, and your audience would love to be a part of it! Take them on an enchanting journey by offering glimpses of how you designed and brought your Christmas signage to life. By sharing fun time-lapse videos or images, you offer a front-row seat to the creative process and the holiday cheer that infuses your team while working on the signage.
For maximum engagement, you can invite your audience to participate in the process by asking for their input or opinions on certain design elements. Conduct polls or Q&A sessions about color choices, holiday motifs, or message wording. Involving them in the decision-making sparks engagement and builds a stronger connection between your business and its followers.
Create anticipation by sharing teasers and sneak peeks of the ongoing progress. Use captions like "Coming Soon" or "Stay Tuned for the Big Reveal" to pique curiosity and keep your audience eagerly awaiting the final unveiling.
Tap into the power of UGC: Run a social media contest encouraging your store visitors to publish photos of your Christmas signage
Encourage customers to take photos in front of your Christmas signage and share them on social media using a specific hashtag. Host a festive photo contest and offer exciting prizes for the most creative, heartwarming, or humorous pictures.
Once the contest ends, announce the winners with fanfare! Feature their winning photos on your social media platforms, blog, or even display them in-store. This acknowledgment not only brings joy to the winners but also showcases your commitment to appreciating and celebrating your customers.
Christmas signage best practices
Go all out during the holiday season
In the world of holiday marketing, more is truly merrier! Don't restrict yourself to just one type of sign; instead, adorn both your indoor and outdoor spaces with festive signage.
Explore the wide variety of Christmas signage ideas and don't be afraid to mix and match various styles and designs. Play with different shapes, colors, and themes to create a visually captivating atmosphere that entices customers and evokes holiday joy.
And remember: the holiday season is a bustling time for businesses, so it's crucial to kickstart your Christmas signage preparations well in advance. Give yourself enough time to design, create, and install the signage, ensuring a seamless and stress-free process.
Make sure to stay on brand
While embracing the festive flair, maintain consistency with your brand identity. Integrate your company's logo, colors, and messaging into the Christmas signage, ensuring a harmonious connection between the holiday spirit and your business's unique personality.
✅ Good example: A coherent brand story
Business: An eco-friendly, sustainable home goods store named "Green Haven."
Christmas signage: The store designs Christmas signage using recycled materials, featuring earthy tones and eco-friendly messages. They emphasize the importance of sustainable gift-giving and environmentally conscious holiday traditions. Their window displays showcase handmade, eco-friendly decorations that customers can easily replicate at home.
Result: By staying on brand, Green Haven reinforces its commitment to sustainability and showcases how the holiday season can be celebrated responsibly. This aligns with their core values and resonates with environmentally conscious customers who appreciate the thoughtful and mindful approach.
❌ Bad example: Inconsistent messaging
Business: A high-end fashion boutique named "Chic Couture."
Christmas signage: The boutique uses cheap, generic holiday-themed signage with bright, mismatched colors and generic holiday phrases. The visuals clash with the boutique's elegant branding and fail to communicate the sophistication and luxury it represents.
Result: In this scenario, the Christmas signage creates a disconnect with the boutique's high-end branding. Customers may perceive the store as lacking attention to detail or inconsistency in their approach. This dilutes the chic image the boutique worked hard to establish, leading to confusion and potential disinterest from their target clientele.
Double-check your signs are in the top-notch shape
Examine your Christmas signage with a discerning eye. Is it time to replace faded prints or worn materials? Keep your signage looking fresh and inviting by updating it if needed. A vibrant and well-maintained display enhances the overall shopping experience and encourages customers to explore the magic you have to offer.
If you have outdoor Christmas signage, consider using weather-resistant materials to withstand the seasonal elements. Wind, rain, and snow can take a toll on signage, so opt for durable materials that ensure your messaging remains intact throughout the holiday season.
Add a pinch of humor to your Christmas signs
Humor is always a good idea, especially during the holiday season. By adding a pinch of humor to your Christmas signage, your business will…
Capture attention of the visitors
Evoke positive emotions
Create a memorable experience
Effectively build your brand personality
Drive social media engagement
There are lots of different ways you can incorporate humor into your Christmas signage. For instance, you can…
Craft witty and playful messages that evoke laughter and resonate with your audience. Use puns, clever wordplay, or seasonal jokes that showcase your brand's personality while capturing the holiday spirit.
"De-light-ful Decorations: Brighten Up Your Home!" for a business that offers lighting solutions
"Un-fur-gettable Christmas Toys for Your Pawesome Pal!" for a pet store
"Jingle All the Way: Accessorize with Sparkle and Shine!" for a clothing and accessories store
Complement your humorous messaging with delightful visuals that evoke laughter at first glance. Incorporate quirky illustrations, amusing caricatures, or unexpected twists on traditional holiday elements.
For example, a hardware store might display a sign showing Santa using power tools to assemble toys, adding a humorous twist to the iconic image of Santa's workshop.
Stay attuned to popular culture and internet trends to incorporate relevant memes and references into your signage. These familiar touches can create an instant connection with your audience, evoking laughter and a sense of camaraderie. However, ensure that the humor aligns with your brand's image and remains inclusive and light-hearted.
While humor can be a delightful addition to your Christmas signage, always consider your audience and the context in which you are using humor. Avoid jokes or content that may be potentially offensive or exclude certain groups. The goal is to bring smiles and joy to all customers, making them feel welcome and appreciated.
---
From twinkly lights to snazzy print ideas, functional signage can transform your storefront into a captivating wonderland all year round. With our ultimate guide to creative signage, you're well-equipped to leave a lasting impression on your customers. So, unleash your creativity and make your business stand out with show-stopping signs that draw in crowds and boost your brand.