Estimated reading time: 3 minutes
When you think of 'decking the halls,' you probably picture twinkly lights, Christmas stockings and fragrant wreaths. And while everyone loves classic holiday decor, if you run a small business, you'll likely need to supplement your setup with some functional (yet festive!) signage. Whether you want to tell shoppers about an upcoming sale or showcase a special offering, here's how to send the right message – inside *and* outside of your storefront.
Set up a sidewalk sign.
String up a banner.
Add a holiday touch to your window display.
Tell customers when to shop with holiday hours signage.
Communicate seasonal happenings.
Install festive directional signage.
Tell shoppers what's special.
1. Set up a sidewalk sign.
Attract the attention of holiday shoppers with a festive sidewalk sign. Swap out the inserts of your A-frame sign for something more seasonal, or add twinkly lights and greenery to your chalkboard sign. Feeling extra creative? Deck out your chalkboard sign with a holiday doodle or festive message written in colorful chalk
2. String up a banner.
This time of year, it's more important than ever to stand out from the competition – and one way to grab the attention of passersby is with a banner. Hang one above the entrance to your store or in your front window to set you apart from the other shops on the street.
If you decide to hang a banner in your window, go for a double-sided one so you can customize the message and design on both sides. This way, customers can enjoy your holiday decor inside and outside your store.
3. Add a holiday touch to your window display.
We're guessing you're planning to give your window display a holiday makeover, whether that means showcasing great gifts, hanging some snowflakes or decking it out with a rainbow of Christmas trees. This year, take it a step further by hanging a seasonal decal or poster in your shop's window. Design this holiday signage with a simple yuletide message or holiday motif to bring some low-effort festivity to your storefront.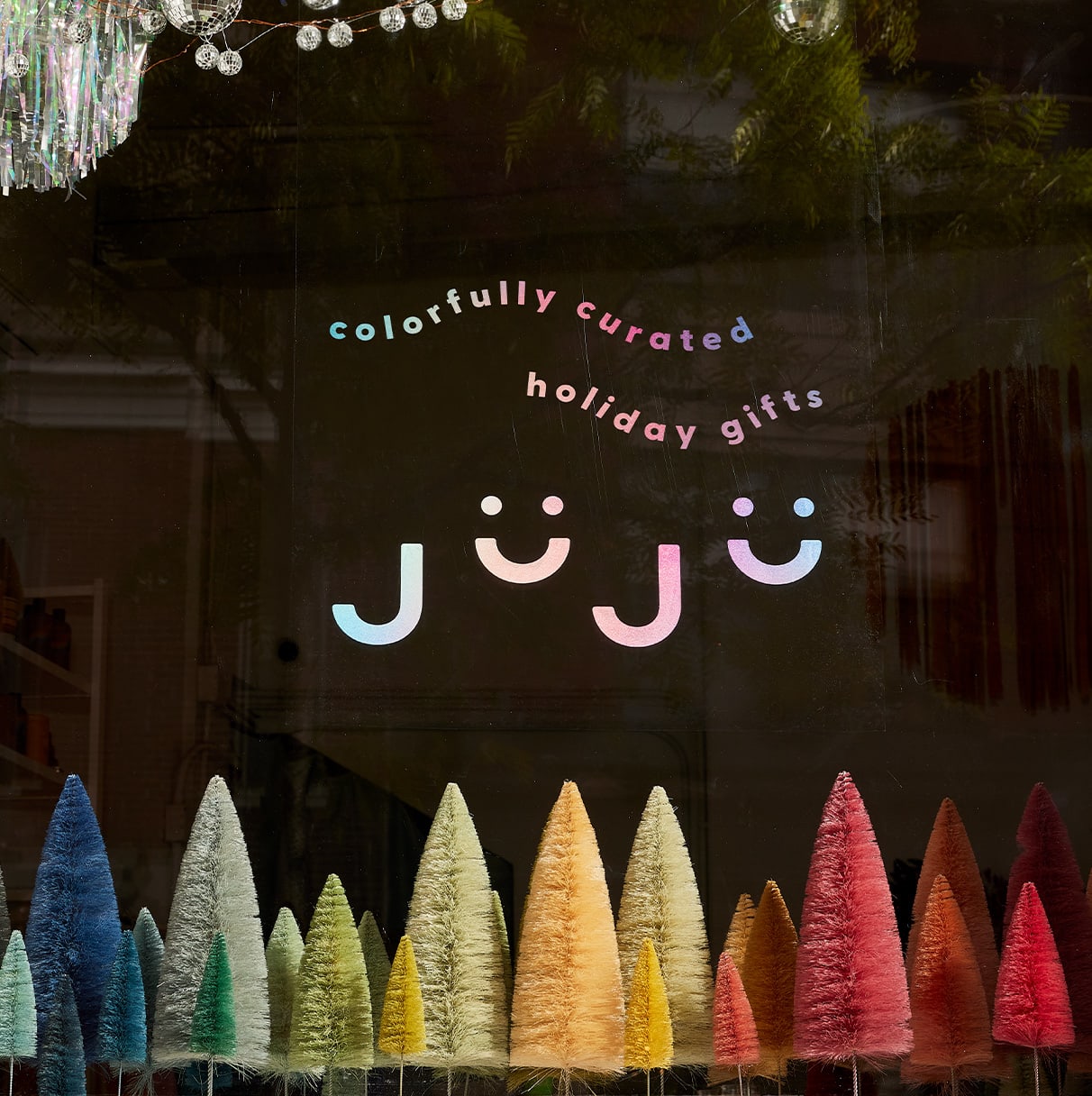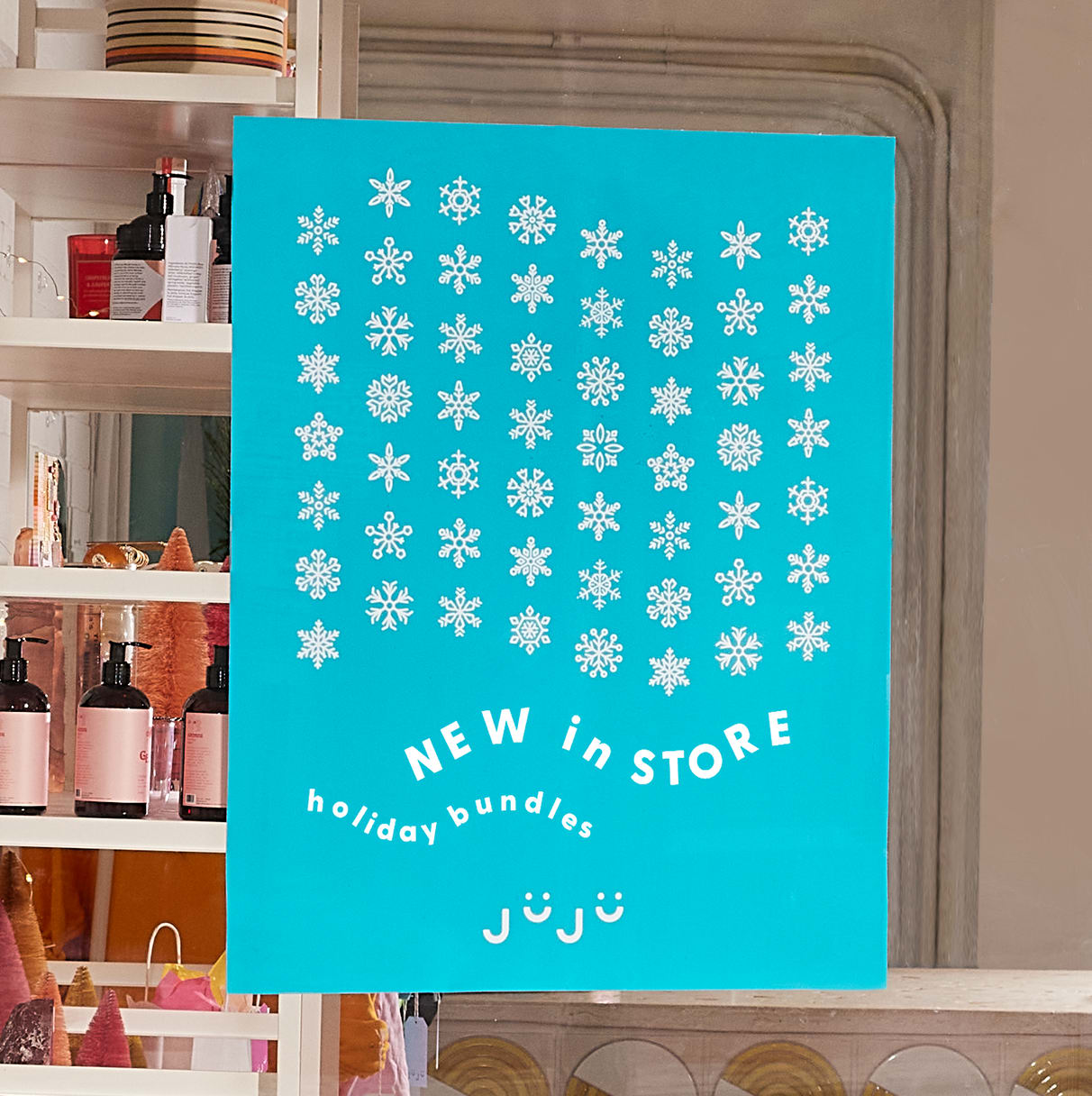 4. Tell customers when to shop with holiday hours signage.
Details make all the difference – even with something as simple as holiday hours signage. Many businesses adjust their hours during the busy holiday season, so if you're planning to stay open late on Fridays or offer private shopping on weekday mornings, order an updated sign to display your operating hours. And since you need to order a new sign, anyway, why not give it some holiday flair? Add Christmas baubles or a holly berry-inspired border to make it ready for the season.
5. Communicate seasonal happenings.
Are you planning on hosting a holiday sale or festive event? Let customers know what they can look forward to with posters hung throughout your store and flyers tucked into every shopping bag. A poster decked out with seasonal elements (like snowflakes, holiday trees or string lights) will instantly add a holiday feel to any wall in your store – and get customers excited about what's to come.
6. Install festive directional signage.
It's the busiest shopping season of the year – and your shop will probably be handling more foor traffic than usual. So, keep shoppers in line with directional signage, whether with floor decals inside your store or an A-frame sign on your sidewalk.
7. Tell shoppers what's special.
Do you have a shelf in your shop dedicated to women-owned businesses? Or a designated display of products that are made from sustainable materials? Give customers more information about what you're selling – it will help them connect to the products, and hopefully inspire them to make a purchase. You can use a tabletop sign, a pop-up display or even a price sign to tell shoppers what's special.