Estimated reading time: 5 minutes
With the season of goodwill upon us, there's no better time to invite people in to explore your store. So, why not plan an in-store event to celebrate the holidays and inspire some shopping? Whether you want to host a limited-time sale or an elegant occasion, check out these tips to get the most out of your next event.
Spread the word about your event.
Add a personal touch to event invitations.
Decorate your space.
Attract walk-ins.
Welcome guests in style.
Get social.
Offer holiday promotions.
Reward early bird shoppers.
Treat your guests to something delicious.
Offer gift wrapping.
Follow up with guests.
Share a recap on your social channels.
Before your in-store event
1. Spread the word about your event.
One of the most important parts of planning a holiday event is making sure people know it's happening. Spread the word with signage, like an A-frame sign on the sidewalk, a banner outside your storefront and posters in your fitting rooms. Keep the info on these signs to a minimum – just your business name, your brand logo and any necessary event details (like the date and time).
Postcards and flyers are other handy tools in promoting upcoming events. Tuck them into shopping bags, and consider including a coupon or promotion on each one to encourage customers to come back for your event.
Share the news of your in-store event on your social channels, too. Design an Instagram post with VistaCreate, and set up a Facebook event that your followers can RSVP to.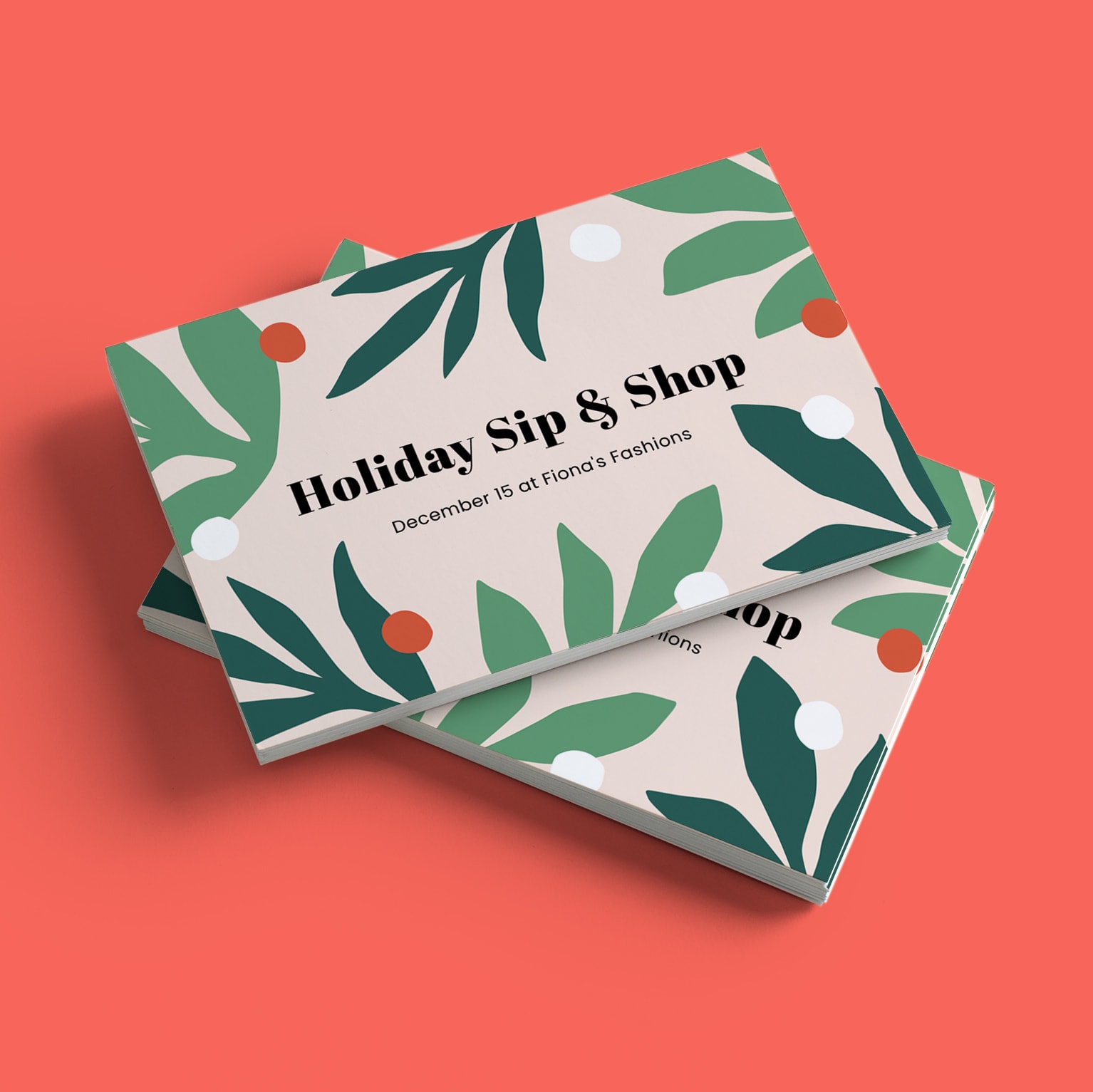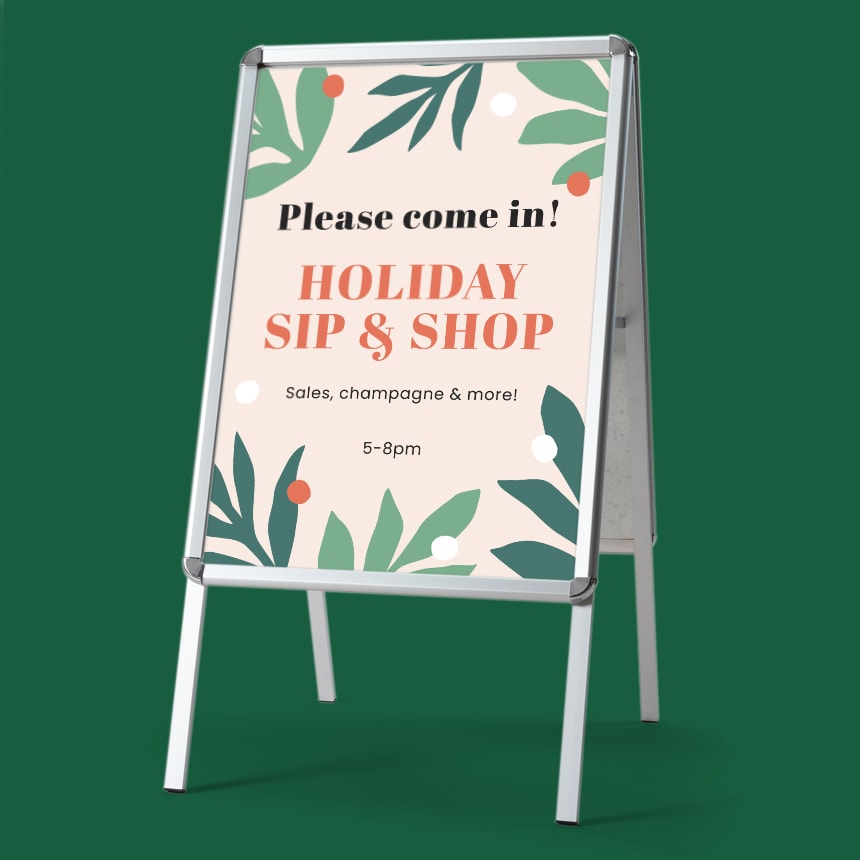 2. Add a personal touch to event invitations.
Despite advances in communication technology, one thing remains: getting a handwritten holiday invitation through the mail feels special. The feeling you get as you peel open the envelope and realize someone sat down, pen in hand, and took the time to invite you personally is powerful. You can always follow up with an email or social media reminder of the event, but receiving an invitation in the mail is a surefire way to make a memorable impact.
3. Decorate your space.
You're hosting a holiday event so, set the stage and get festive! Beyond the banners and posters promoting your event, get creative with holiday lights, floral arrangements, greenery garlands, scented candles and more.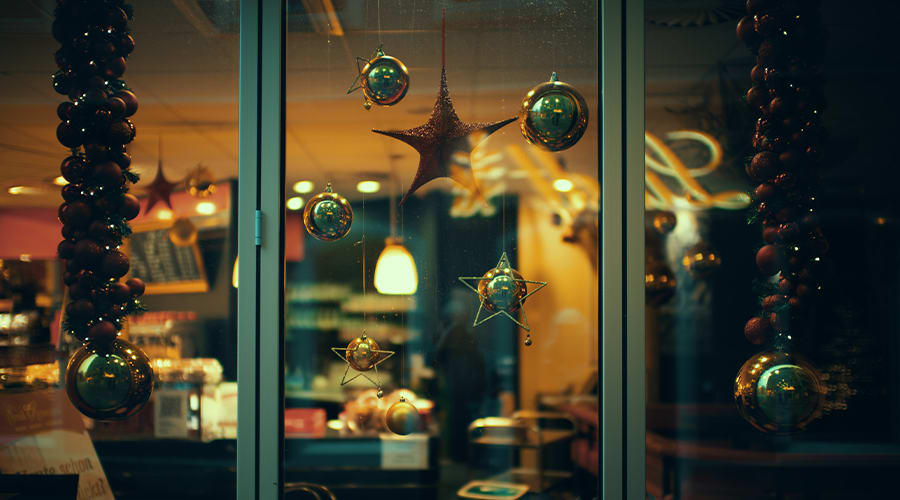 During your in-store event
4. Attract more walk-ins on the day of your event.
Catch the eye of shoppers walking by with outdoor signage that stands out. Indoor events can often look private and exclusive – but if that's not the case for your event, do everything you can to make your storefront look welcoming. Make sure your exterior signage tells people that an event is happening right now, and that everyone is welcome. If you're able to, you can also station an employee on the sidewalk to invite passerby inside maybe with the promise of a warm drink.
5. Welcome guests in style.
Once you've tempted a crowd through the door, it can be challenging to greet everyone in person. So, display a sign on an easel with a warm welcome message, like "Happy Holidays! Help yourself to a drink and a bite to eat."
You can also use in-store signage, like tabletop signs, to provide additional information about limited in-store offers, holiday raffles and upcoming sales.
6. Get social.
Show customers that your business is social media savvy with a dedicated event hashtag or selfie station. Decorate a corner of your store with a photo-ready backdrop or seasonal props, and encourage guests to take advantage of this photo op – and, most importantly, share their photos on Instagram, Facebook and more. Remind them to tag you in their posts and use your event's hashtag so you can re-post their content!
7. Offer holiday promotions that encourage people to come back.
There's a good chance that some of your event guests are first-time visitors to your business, drawn in by the excitement of an event (and the allure of free refreshments). So, make sure they have a reason to come back and engage with your business even after the holiday season is over. Add a coupon to the back of your business cards and hand them out to each shopper, or print promotional postcards that guests can take home with them.
Or add a handwritten note thanking people for attending to shopping and swag bags.
8. Reward early birds with a branded keepsake.
When it comes to hosting well-attended in-store events, giveaways are a tried and true way to get people through the door. Give people a reason to show up early by rewarding the first 25 shoppers with a branded promotional item, like a handy tote bag or cozy sweatshirt. This generous gesture not only gives your guests something special to take home, but it also gets your name around town and creates lasting positive associations with your business.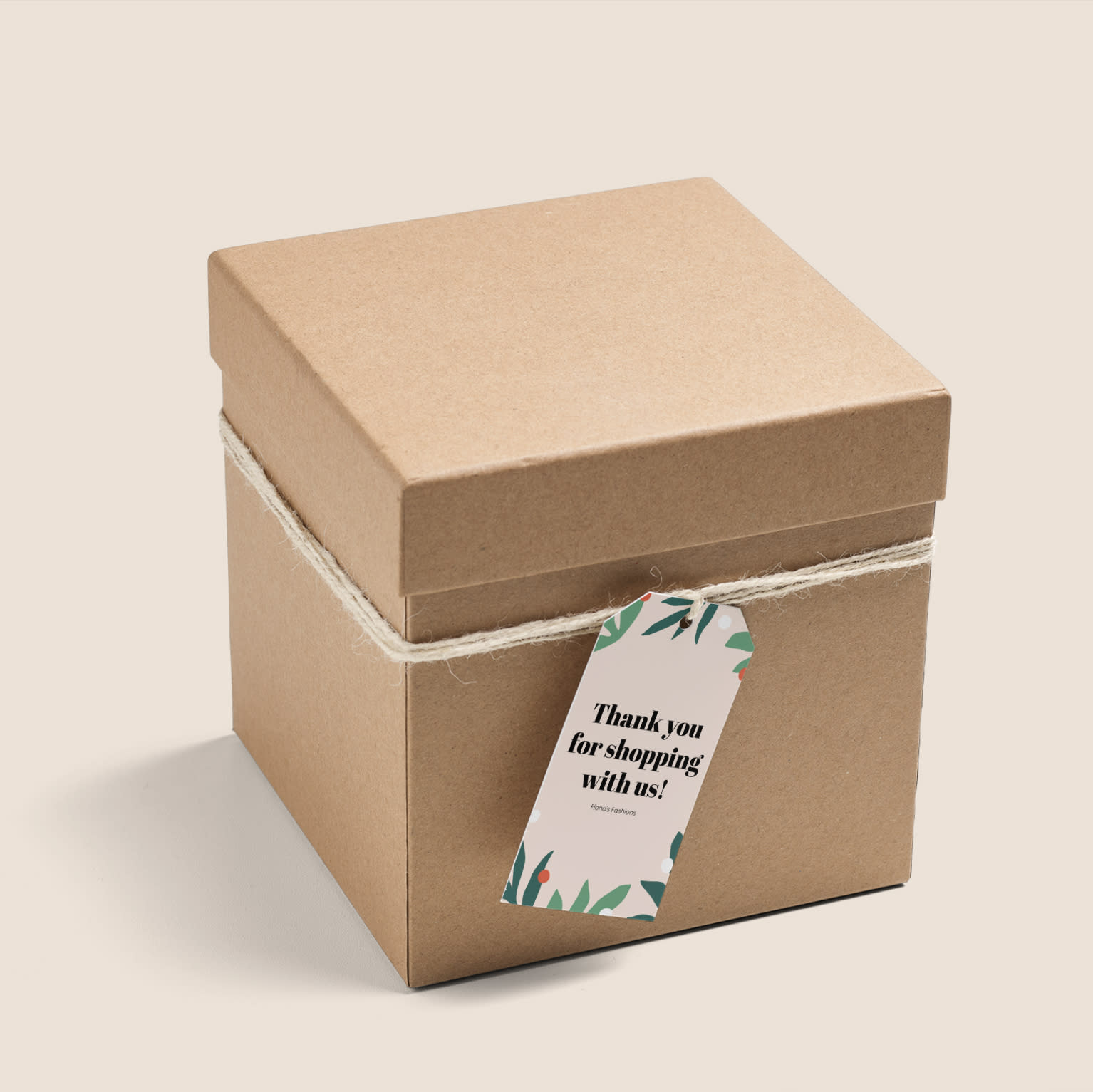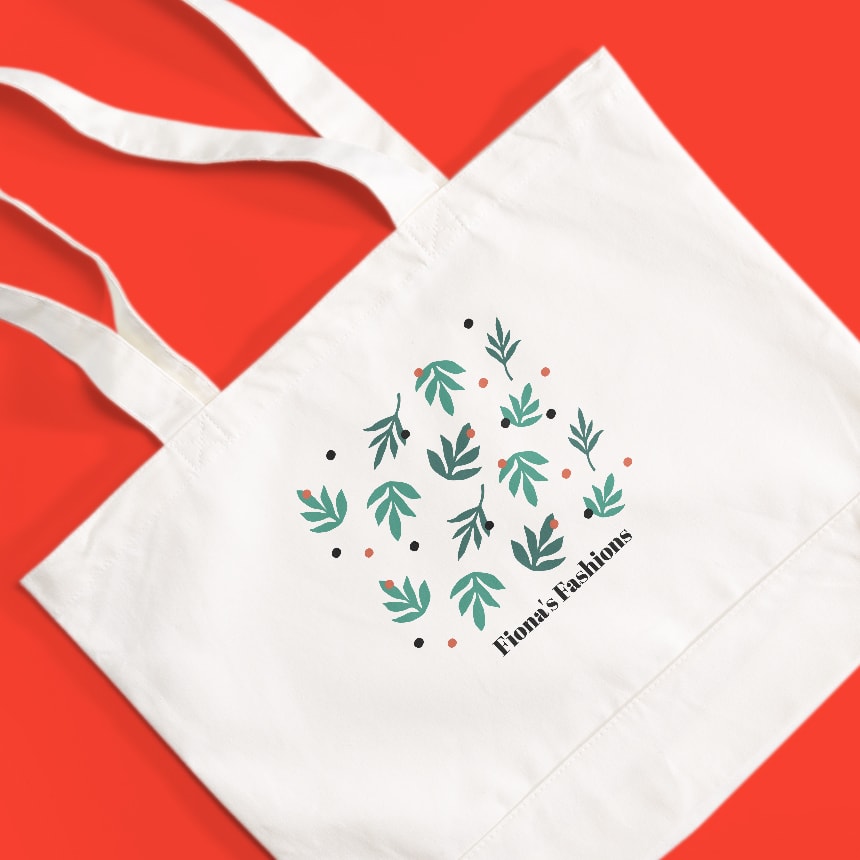 9. Treat your guests to something delicious.
Nothing makes a holiday party more merry than festive snacks. Even if you can only stretch to sparkling water and some snacks from the grocery store, offering your guests refreshments is essential, especially during the holiday season.
You can take it a step further and serve goodies from other local businesses – maybe sweets from the chocolate shop down the street, or yuletide punch made with seasonal fruit from a nearby farmstand. And if you're handy in the kitchen, why not whip up something homemade? Whether you bake a batch of gingerbread cookies or create a stunning cheese display, event guests are sure to love this extra effort.
10. Offer gift wrapping.
Make the holiday shopping experience extra memorable for customers by offering gift wrapping. Offer it for free during your in-store event, and take this opportunity to show off your branding. If you wrap something in tissue paper, seal it with a logo sticker. Is a customer shopping for a loved one who lives across the country? Get their gift ready for the mail with a padded envelope and branded packaging tape.
After your in-store event
11. Follow up with guests while memories are still fresh.
After welcoming people into your store, a brief thank you card keeps the positive momentum of your event going well into the New Year. According to Erin Shea, a Senior Marketing Director at Vista, "your interaction with customers doesn't end when you pack up. Make sure you follow up with any leads gathered at the event as quickly as possible. Do your best to contact them within 48 hours via email or, even better, follow up with a personal note on a customized, event-themed postcard
12. Share a recap on your social channels.
You hopefully captured some content during your event, whether it's behind-the-scenes footage or customer selfies. Share a recap of your amazing event on your favorite social channels to get people excited about the get-together you host.