Estimated reading time: 6 minutes
When it comes to holiday wrapping or packaging, what's on the outside should be just as special as what's on the inside. As a small business owner, the holiday season is a perfect opportunity to wrap gifts in more than just pretty paper. When it comes to packaging for 2022, going the extra mile can help build customer loyalty and reinforce your brand – especially if this is your business' first holiday season.
Whether you exclusively sell your products online, run a brick-and-mortar shop or are planning to pop up at local markets this year, take a cue from their holiday packaging ideas to make a great impression on current, new and potential customers. See how Maya Creations uses packaging that reflects their brand and feels perfectly festive for the season.
Give the gift of gift wrapping.
Use packaging materials that reflect your brand.
Showcase your small business story.
Show your appreciation with a sale.
Add something special.
1. Give the gift of gift wrapping.
'Tis the season for gifting, so make it easy for your customers to send a ready-to-unwrap gift to their loved ones. You'll be offering a much-appreciated service to loyal customers – and impressing prospective clients. Make it easy for customers to add gift wrapping to their in-store order for a small fee (or offer it for free with a minimum spend).
A gift isn't complete without a card – offer to include a blank note card that your customer can personalize before they place their present under the tree.
2. Use packing materials that reflect your brand.
From tissue paper to packaging tape, make sure everything you use to pack orders includes an element of your business' look. Offer wrapping in your brand's colors and style, and make sure it can be used for all recipients, no matter which holiday they celebrate.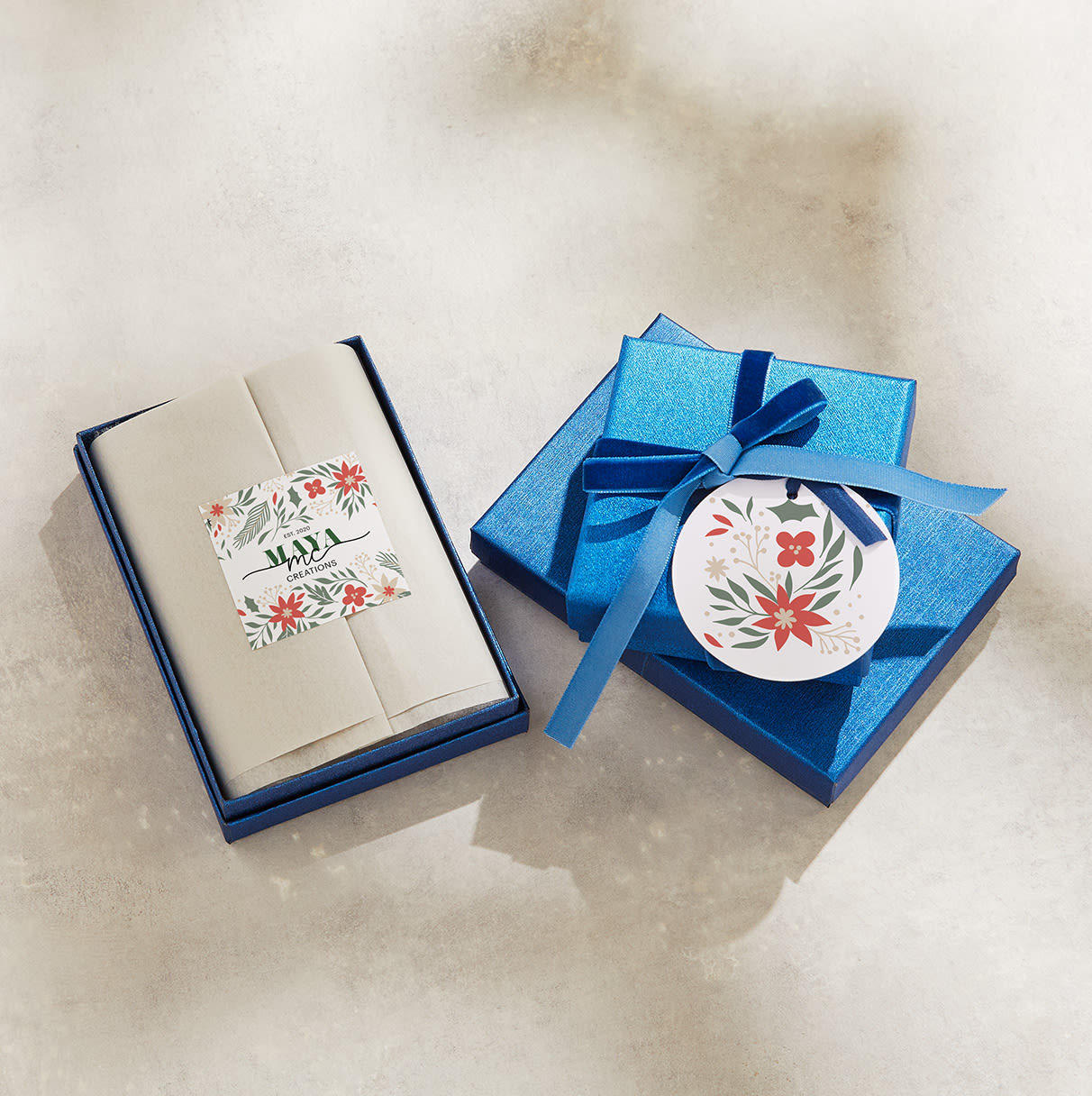 3. Showcase your small business story.
If you're interacting with customers at your shop or a local market, you may have a chance to chat with them and share a little bit about your brand. When you're wrapping up an order, offer to include an informational brochure or postcard so they can learn even more about your small business – or pass it along to the lucky gift recipient.
4. Show your appreciation with a sale.
Make sure customers know how much you appreciate them with a thank you offer – this will hopefully encourage another purchase and ensure they come back for more. Something as small as a 10% off discount or free shipping can go a long way in making your customers feel special. Print the offer on a business card and add it to your gift wrapping routine, whether you staple it to a paper bag or attach it to their receipt.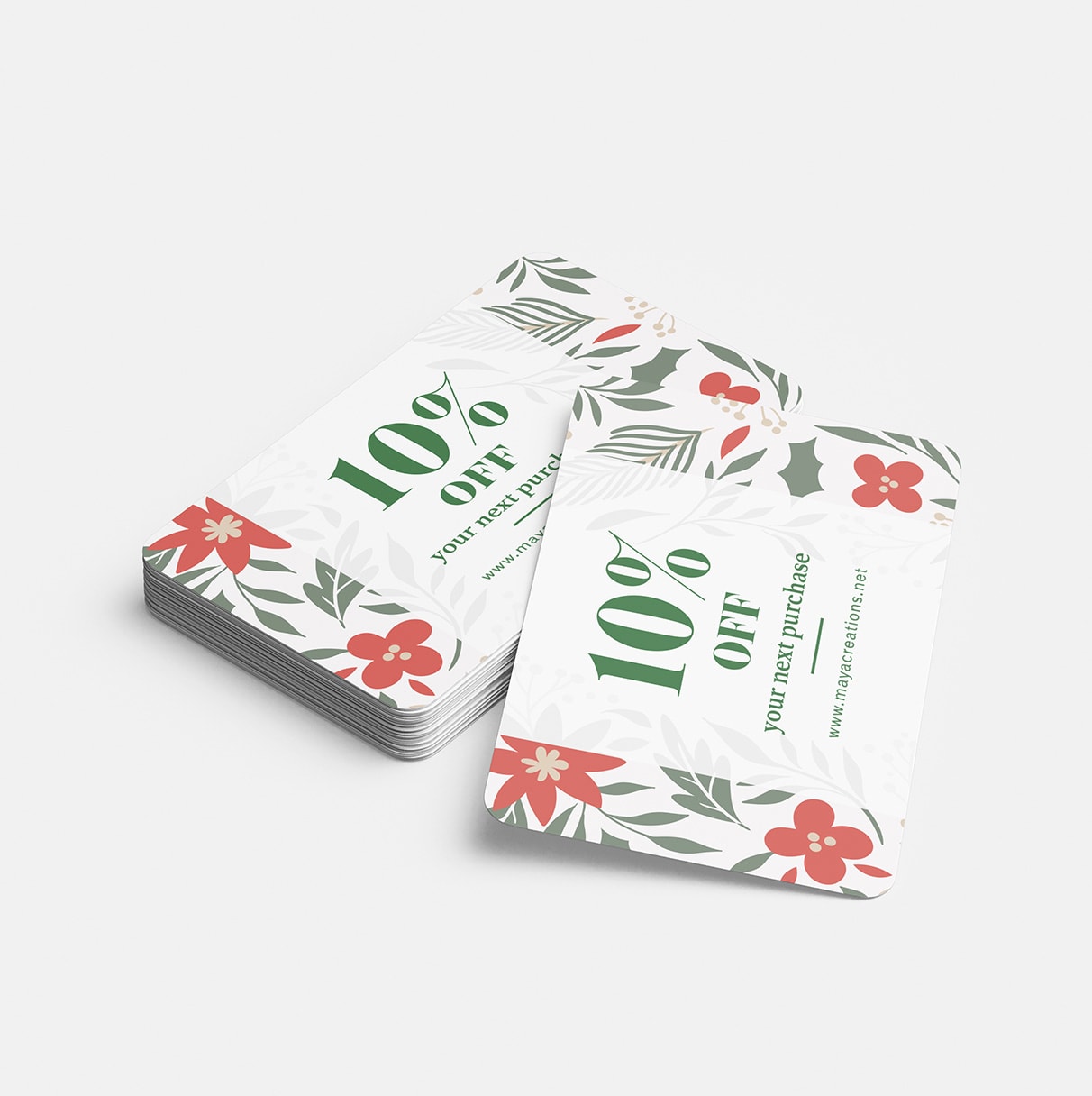 5. Add something special.
Go the extra mile for all of your holiday customers, and surprise them by adding something special to their shopping bag. Maybe a sample of a new product, insider information about upcoming products or sales, some fun sticker singles or a bonus gift for a high-value purchase. Did your customer purchase a pet portrait? Include a dog treat or collar charm. Did someone buy a bar of lavender soap? Throw in a bonus lip balm in the same scent. This level of detail will go a long way in making a lasting impression.
Bonus holiday packaging tips for online orders
Start from the outside, in.
Show that you put as much thought and care into your packaging as you do your products. This way, you'll create an experience that will excite customers from the moment their package arrives. If you're shipping an order, make sure everything you use to pack it reflects your brand – including crinkle filler paper and packaging tape.
An aesthetically pleasing package lends itself to Instagram- or TikTok-ready unboxings. Encourage customers to share their unboxing experience (and follow your shop!) on social media – add this call to action to a rack card or postcard that you can include in each order.
Give the gift recipient some background info.
Tuck a postcard with your brand's story into every shipped order – it's an inspiring touch any time of year, but especially during the holidays. Since you didn't get to chat directly with your online customers face-to-face, you'll give them some insight into the person and passion behind their purchase. Plus, an informational postcard gives you a chance to make a meaningful impression on the person receiving the gift. (Remember, they're a potential customer!) If they love the product and your brand message, they'll want to shop directly from you next time.
Include a personalized note.
Since you can't thank your online shoppers in person, order a set of 'thank you' postcards or note cards and customize each one with a hand-written message. This small gesture can go a long way…and a logoed postcard will help reinforce your brand identity. If your item is being sent as a gift to someone else, offer to include a note card with a personalized message from the sender. This is a great way to make the gift giver look good, even if they didn't send the package themselves.