Turn your logo into a way to reward and track repeat business. Just upload your design and explore text, logo and ink options. See details
Fetching compatible options

100% satisfaction guaranteed
Keep loyal customers coming back with loyalty card stamps.
Self-inking
0.5" diameter
3 ink colour options
Can be used up to 10,000 times
Note: Uploads with small graphics or fine lines are not advised. Because of the small size of these stamps, we also recommend using images/icons only, with no text.
Thanking customers & staying informed
Want to show your appreciation for regular customers and easily track repeat business? Loyalty programs are a great way to do both –and loyalty cards and self-inking loyalty card stamps are a key part of that. They add a fun touch to every in-store or in-restaurant experience, while capturing customer activity at the same time.
Convenient & self-inking
Our compact and convenient loyalty card stamps are self-inking, so you don't need to buy or handle separate ink or ink pads. That means less mess and less stress when interacting with customers.
Easy to create
Ready to design your stamp? Choose your colour, upload your logo and any custom touches you'd like. We'll take care of the rest, and your loyalty card stamps will arrive ready to use, right out of the box.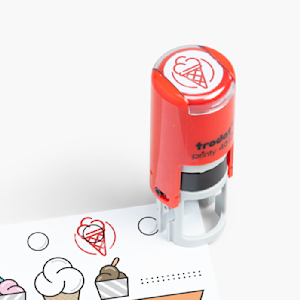 Our professional designers can help create the look you want.

Printed Product Design