Estimated reading time: 4 minutes
Picture this: You just got invited to a local small business event, where there will be tons of potential for connecting with new customers. And what better way to engage with people in a low-stakes manner than with some fun event swag?
Promotional items can help you efficiently and effectively advertise your brand at events like conferences, tradeshows and professional mixers. Not only can they organically put your brand front and center with prospective customers, but the right product can help you improve someone else's entire networking experience…keeping your business top-of-mind.
Use these five steps to get the most out of branded swag at your next event.
1. Assess the event for merch opportunities.
You wouldn't use the same strategy to promote your business at an intimate professional cocktail hour as you would at an international conference. That's why it's important to approach each event individually, breaking down its features so you can discover the key information you need to be successful. Some of the event branding details for you to consider are:
Location. You'll want to work out any transportation logistics or shipping costs for your swag.
Attendee type. Reflect on the various roles of people who might be there and how they might use your merch. Farmer's market attendees will be looking for vastly different items than fellow business owners attending a tradeshow.
Number of attendees. This will help you estimate how much you'll need and determine per-item costs.
Event theme. You may want to have a merch strategy that coordinates with the event. For example, if the event is tied to an eco-friendly community initiative, you might select promotional items made with recycled or sustainably sourced materials.
Time of year. Think about incorporating seasonal small business merch ideas, whether based on the calendar or climate. For example, branded bottled water during a hot, outdoor event in the summer, or holiday-themed goodies in the final months of the year.
2. Set tangible and realistic goals.
With all the different bits of swag you could use to promote your brand at events, you'll want to get specific to make the most impact. By taking time to set tangible and measureable business goals for an event, you'll know what kind of swag you need to get the job done.
While your goals will likely be as unique as your business, they might look like:
Gathering a specific number of leads for follow-up marketing, such as an email list
Registering a group of new users for a product demo
Sparking a conversation with a decision-maker or potential partner
Inviting some number of conference attendees to an event your company is hosting
Positioning your brand to help event attendees solve a common problem
Add a QR code to your printed merch items or business cards to quickly and easily collect customer info.
3. Evaluate your event swag ideas.
Once you have your goals, you'll know the job your swag has to do at the event. That means it's time to go shopping.
The number of products you need generally depends on the size of the event and what role you're playing at the event — whether that's as a key sponsor or smaller attendee. For example, you might need some giveaways for conference swag bags or free T-shirts to get your brand in the mix when a conference kicks off. You might also need a higher-value item, like a custom raincoat or umbrella for events in a rainy destination, to encourage people to sign up for a product demo. For smaller events, you might want a few high-quality pens or branded notebooks that attendees might appreciate having on hand.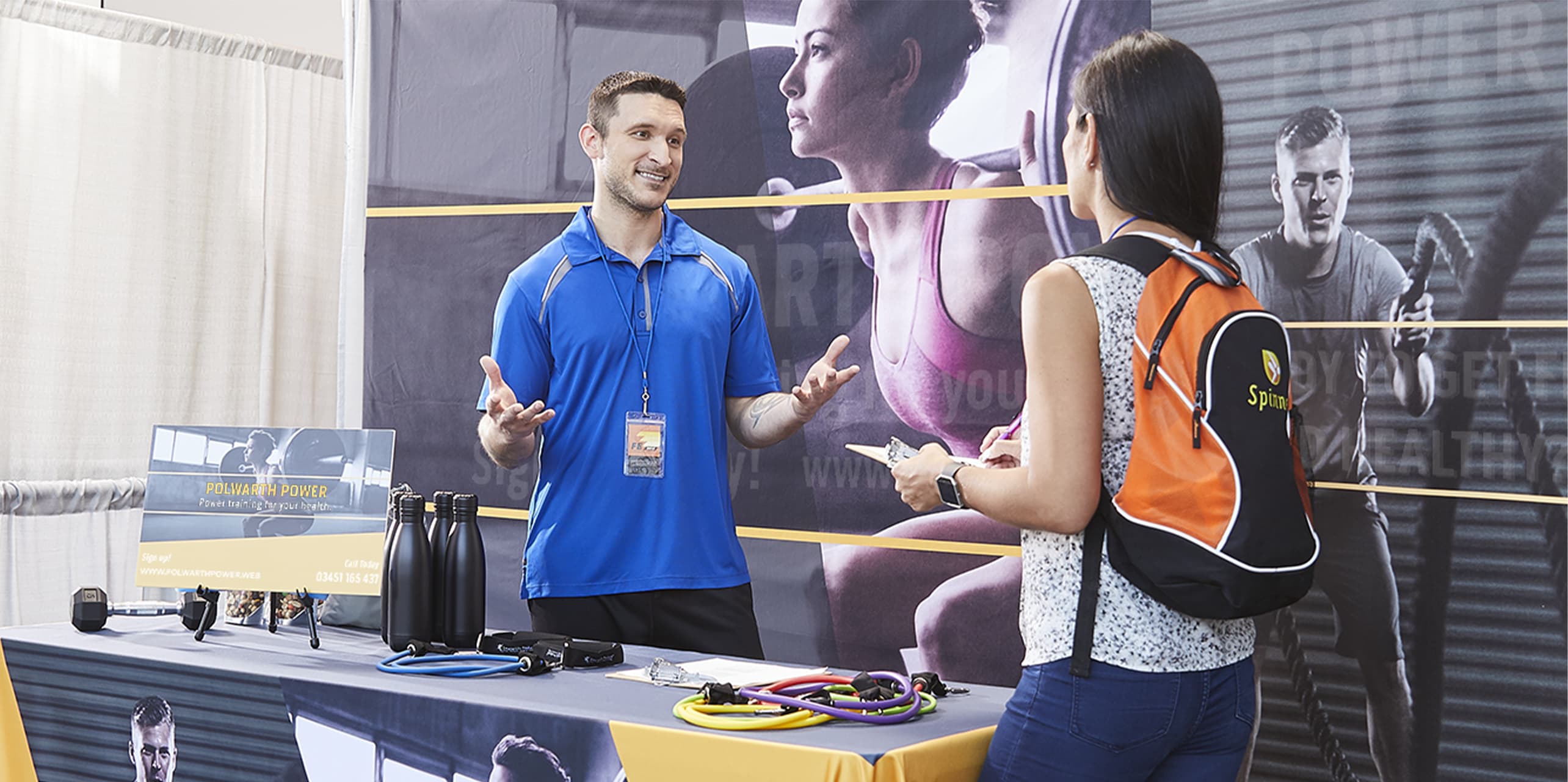 When assessing your merch options, keep two key questions in mind:
Does this product offer enough value to drive the action I want a recipient to take?
Does the size of the product suit the event structure?
For instance, a stress ball might not be enough of an incentive for someone to commit to an hour-long product demo. And though a sturdy drink tumbler in a nice box is a great giveaway, it won't be ideal if people are constantly moving around and there isn't anywhere to stash it. Meanwhile, a branded tote bag to store all their swag is an invaluable freebie at any event.
Don't forget about event signage to attract attendees. Banners, pop-up displays and tablecloths can all quietly put your brand in front of eventgoers who may otherwise pass by.
4. Focus on networking, not selling.
At the event itself, keep one thing in mind: People buy you before they buy anything from you. That's why it's essential to keep your interactions organic. Lead with conversation and compliments, and look for ways to add value to conversations in progress. It's not about how much merch you give away, but giving away the right merch at the right moment.
For example, say you're at a local trade conference and an attendee asks if they can plug their phone into your power strip for a few minutes. That's the ideal time to say, "I'll do you one better," and offer them a complimentary power bank. Not only have you just instantly solved a stranger's problem, but you can start a conversation and hopefully earn their contact information in return. Plus, they'll walk away from the event with a useful reminder of your brand.
5. Follow up with new connections.
Your work isn't over once the event has come and gone. When you invest in swag to promote your brand at events, you need to budget time to follow up with your new connections. Whether you're scheduling product demos, booking consultations, sending an email blast or calling a key prospect, follow-up activities can transform your merch into revenue-generating relationships.
Your event swag can help you out even when a prospect might not remember you or your company. After all, events can be hectic. When following up, you can always say something like, "It's Taylor from InTech, and while you might not remember me, I'm the one who hooked you up with that power bank to charge your phone." That's the magic of event branding and merch: It keeps working for you long after the event.