Estimated reading time: 4 minutes
One of the biggest challenges small business owners will face is standing out from your competition – regardless of what industry you're in. Here, learn more about handyman Mark Monjonell's marketing essentials and how he uses business cards, car door magnets, polo shirts and more to make a professional impression and spread the word about his business.
Behind the business
There's that famous adage that if you do what you love, you'll never work a day in your life. And though many small business owners are pursuing their passions, we think they'd argue that there is quite a bit of work that goes into running a business.
As the owner of Handyman Barcelona, Mark Monjonell is an ideal example – he left a full-time position to pursue his handyman passion six years ago. "I was working a very boring corporate job, and in my spare time I'd help my friends out with small repairs. My wife noticed I really enjoyed this kind of work and encouraged me to pursue it. I believe everybody should do what they love."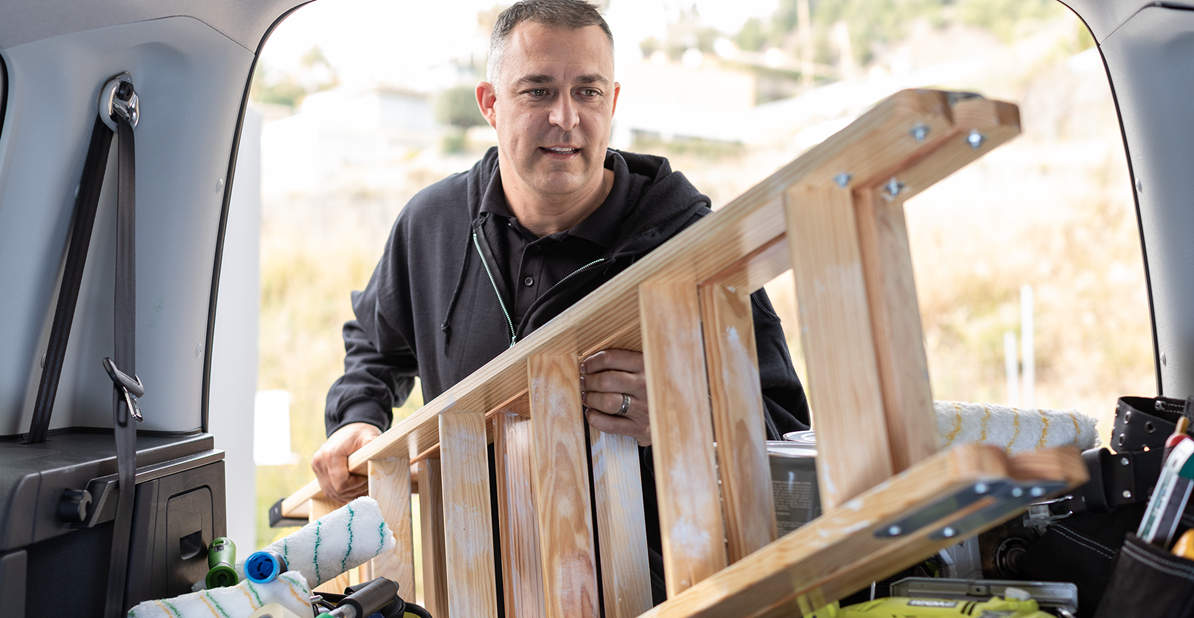 Mark got started with handyman work as a child – growing up, his dad was a house painter. As a kid, Mark helped his dad out in the summers…when he wasn't busy dismantling and reassembling bicycles. He says this curiosity translated later on into tinkering with things and his eventual shift to doing repairs for a living.
Today, he does everything from hanging pictures (Mark's an expert at dealing with the tricky walls of centuries-old homes) to remodeling entire houses. He loves having his own business because "it allows you to be the boss of your time. Time never comes back…it's a precious commodity….[plus] everyday, you learn something new."
Mark's marketing toolbox
When Mark was starting out, the first marketing material he ever ordered was a flyer – before he'd even settled on a name for his business. ("It was ridiculously poorly done," he adds.) From there, Mark realized he needed to level up with a logo design, real business name and professional photos. He partnered with a freelance designer to create a logo and get his website up and running, and worked with a photographer to get some professional headshots.
"At the beginning, I used a lot of flyers because I lived in a specific neighbourhood with a lot of expats." He wanted to capitalize on his multi-lingual abilities and target English-speaking customers, so Mark used flyers to get his name out there – leaving them in cafes, bars, shops and more. Now, he's added social media into the mix…his go-to marketing tactic is short videos and posts on Facebook and Instagram. Mark uses all of these channels to advertise that he speaks four languages – this unique ability helps him stand out from the crowd and attract more customers.
Mark's also used business cards from the very beginning…"they were one of my first expenses as a business owner." He notes, "you should always carry more business cards than you think you need." Mark gives extras to clients, so they can give them to friends and encourage word of mouth marketing, and swaps business cards with other industry professionals.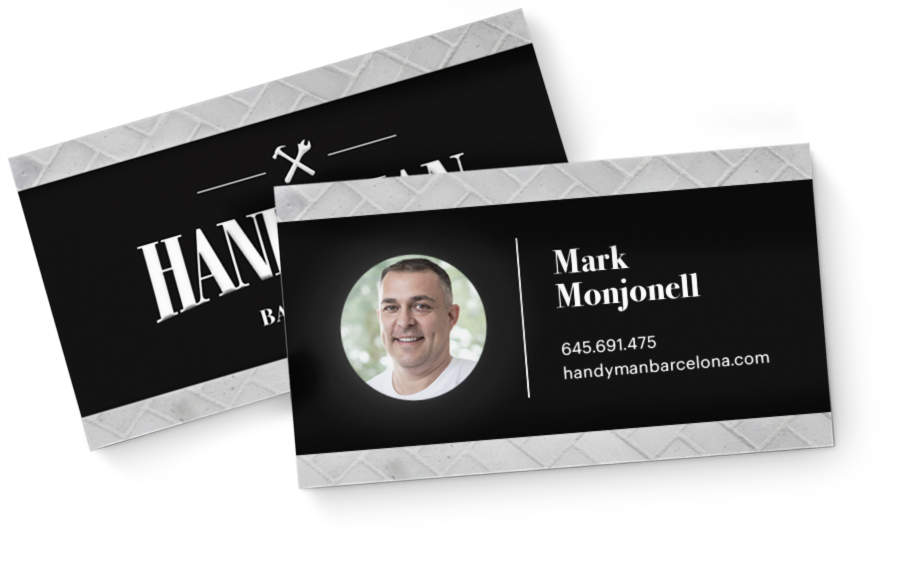 Mark includes a headshot on one side of his business card, so customers will know who he is and what he looks like before he shows up for a job. "I feel like people know me when I walk into their house."
Another one of Mark's long-time marketing must-haves are custom polo shirts and T-shirts. "I'm a firm believer that you have to be a professional…and that the first impression counts – a lot. The cleaner you look, the more believable your business is…even if I'm just one man doing things."
"I'm a firm believer that you have to be a professional… and that the first impression counts – a lot. The cleaner you look, the more believable your business is… even if I'm just one man doing things."
He wears a variety of colour combinations and shirt styles, but his logo is always consistent. io "Polos are my formal uniform when I go see a client for the first time or have an interview. If I have to paint an apartment, I wear a white logo T-shirt. If I'm repairing something, a colour logo T-shirt."
Car magnets are a newer addition to Mark's toolbox of marketing essentials – they make his vehicle (the family's everyday car!) legit, whether he's parking in a loading zone or dropping off materials at a job site. "I'm a firm believer that simple is effective," so his car magnet simply includes his business name, logo, phone number and website address.
Mark always asks for client reviews, no matter how small the job.
"I can tell you how good I am, but you won't know until I'm in your house."
Peak season…and a pandemic
Mark mostly deals with everyday maintenance issues and year-round home repairs, but summer remains a big painting season for him. He's worked to build a network of specialty providers so he can refer them to jobs he can't do, whether due to time restraints or lack of expertise (electrical work, for example). "The one thing I wish I knew before starting a business was how hard it is to deal with unprofessional tradespeople. Rely on people you've worked with in the past and build a business relationship. Plus, you can ready more people with more services."
The COVID-19 pandemic has had positive and adverse effects on Mark's business. He lost some of his larger corporate clients, since many offices have shut down and people are working from home. But since people are spending more time at home, they're noticing things that need repair or deciding to make improvements…so he's getting that business. Mark adapted his methods to comply with safe pandemic protocols, too. He wears a mask while he works and has clients wait in another room to maintain social distancing.
Looking to the future
Right now, Mark is happy with the scale of his business. "I prefer to work from project to project…every job is different, so [this way], I can create a team per project." But he's still thinking about how he can grow his business – he's played around with the idea of franchising, since he believes every market has a need for a reliable, English-speaking handyman.
He's also thinking about what he can do to expand his marketing toolbox. "There are so many things to choose from, but I think the next thing I need is a magnet to put on my motorbike. I should also get some flyers made up because they're great to give to clients so they have my number handy…or to leave in coffee shops and hardware stores.
Finally, Mark left us with some advice for other up-and-coming small business owners. "Be presentable and always be on time. It's good not to over-promise as things don't always go to plan!"
The best piece of business advice Mark's ever received? "Do what you love, and you'll do it right."
---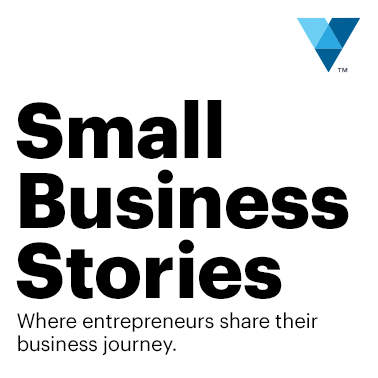 Each Small Business Story is unique…just like you and your business.
Learn more about Mark Monjonell and his handyman business on Small Business Stories, Vistaprint's podcast.