Estimated reading time: 5 minutes
You just got your new business up and running — and it's an incredibly exciting time for you. At the same time, you might be wondering why a flood of customers isn't immediately forthcoming.
In a crowded field, every business needs to differentiate itself, and knowing how to reach your target audience with marketing is key in achieving this goal. A viable marketing strategy ensures that the right message meets the right audience at the right time.
When small business owners combine digital marketing with printed materials, you set yourself up for success. This competitive advantage holds true whether you have a well-crafted marketing plan or are just creating one. Whatever your situation and business experience, these tips on mixing print and digital efforts can help you reach as many target customers as possible.
Differences in print and digital marketing
The good news is, you don't have to choose between print and online marketing to reach and engage customers. Each approach offers potentially high value and a significant return on investment.
Print remains a dependable, tried-and-true option for your small business. In many cases, postcards, flyers, signs, business cards, brochures and rack cards are among the most versatile marketing materials.
For example, you can use leave behinds in your print marketing strategy — like leaving a stack of postcards at a neighborhood coffee shop, or posting flyers on community message boards — to reach prospective customers and boost brand awareness. Postcards and flyers are also easy to add to shopping bags and packaged orders. And a well-designed postcard arriving in a customer's mailbox often stands out from more ordinary mail, thus piquing new customer interest.
The internet, however, is also a great place to reach many potential customers. You can appeal to computer-savvy clientele through:
Eye-catching and easy-to-navigate website design
An engaging social media presence
Email communications with news and discounts
Small business digital marketing enables entrepreneurs to closely target their desired customers across numerous channels and platforms. Online resources are easy to integrate into most marketing plans (and are often budget-friendly as well).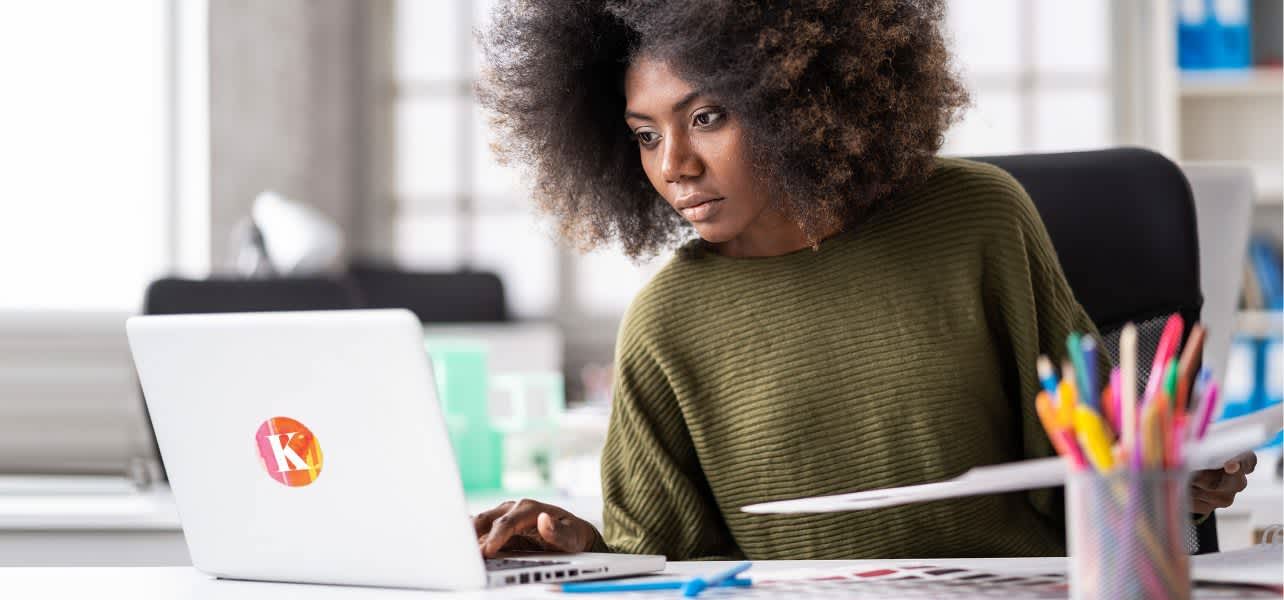 Be sure to include your site's URL (or a QR code that links to it) on every printed piece you deliver to customers. This makes it easy for them to take the next actionable step, while also providing more information about your company's products or services.
Combine print and digital in an integrated marketing plan
When creating a marketing plan, start by outlining your desired marketing goals. This will organically grow out of a thorough grasp of your audience and your overall business objectives. For example, you could have a goal to build out your newsletter distribution list, increase your Instagram following or get a certain number of RSVPs to an upcoming event.
The next step is selecting the most appropriate marketing tools for that audience. Are printed materials likely to generate the desired effect, or are potential customers more attuned to digital efforts such as social media? What about leveraging the content in your printed materials to boost online buying?
Traditional print marketing can be effective at boosting awareness of your brand and for drawing new customers in. Online marketing often facilitates ease of purchase, while also growing brand visibility on search engines and in social media.
An integrated marketing plan encompasses the best strategies for reaching customers through a mix of print and digital resources. Here are some examples:
Adding your business name, URL and even your social media handles to branded "swag" (water bottles, pens, shirts, etc.)
Promoting branded swag (like sweatshirts, T-shirts and hats) on your social channels, whether you sell it or run a giveaway
Printing a call-to-action on physical marketing materials that leads to online purchasing and, when possible, vice versa
Showcasing positive online reviews on printed marketing materials
Emails and social media posts are highly effective tools for keeping customers in the loop about your business. Leverage VistaCreate to find a social template you love and create customized visual content for free.
Measuring the success of your integrated marketing efforts
Combined marketing campaigns are most effective when business owners commit time and resources to tracking and evaluating the response. Reliable metrics can include:
Response rates to calls-to-action in printed materials
The number of conversions emerging from a marketing landing page
Analysis of social media responses
Customer use of print coupons or discount codes
These and other metrics relevant to your business and industry can help determine how to reach your target audience over time with an integrated marketing plan, and where it might need to be adjusted for long-term success.