Estimated reading time: 10 minutes
The holidays are all about connecting with loved ones – whether in person or from afar with heartfelt gifts and greetings. This season is the perfect time to celebrate the special people in your life and show them how important they are to you.
As always, the holiday season promises to be busy. End-of-the-year deadlines approach, events need planning and, perhaps most importantly, holiday shopping needs to be done. But the last thing you want to do is wait in long lines just to grab something off the shelf that doesn't feel as special as the person you're giving it to. This year, why not make it personal? Show your loved ones you "get" them by giving them something only they could cherish.
To start, here's a list of great customizable gifts. Then, we'll show you some fun ways to make the perfect present for each person on your list.
Fleece blankets
Photo books
Acrylic photo blocks
Coffee mugs
Personalized pillows
Custom calendars
Canvas, metal & wood prints
Custom T-shirt
Custom sweatshirt or hoodie
Custom beanie
Custom apron
Custom canvas print
Custom puzzles
Custom luggage
Custom power bank
Custom duffle bag
Custom water bottle
Custom notepad
Customized drinkware
Christmas ornaments
What makes custom Christmas gifts great?
Personalized items make a perfect holiday gift for everyone on your Christmas list for a multitude of reasons. Here are just a few…
Show you've put that extra mile into choosing something that's uniquely your giftee.
Strengthen the special bond you share with your friends and relatives.
They're a source of genuine smiles.
They're a great conversation starter for the festive gathering.
These gifts aren't just for now; they're for always.
They're a perfect option for everyone on your list, no matter how well you know the person you're gifting them with (yes,you'll finally ace the yearly Secret Santa gift exchange).
Now that you're convinced that personalized gifts are the it-gift idea for the holiday season, let's dive into the list of different custom Christmas gift ideas.
Personalized Holiday gift guide: 20 personalized holiday gift ideas for everyone on your list
1. Stay cozy with a customized fleece blanket
Warm up your forever chilly BFF and let them bask in the glorious vibes of the season with a snugly fleece blanket – but here's the twist: personalize it with a hilarious snapshot that takes you both down memory lane. 
What makes it a perfect holiday idea for your loved ones? The fact that it's not just handy but also heartwarming, conjuring up all those cozy holiday feelings.
2. Share favorite memories with photo books
Turn the spotlight on all those unforgettable chapters from the past year with a fabulous photo book! Whether it's that incredible getaway or the charming backyard wedding, capture these exceptional moments within the pages of one-of-a-kind photo books that are perfect for sharing with your nearest and dearest. 
They'll love being able to take a personalized stroll down memory lane whenever they'd like.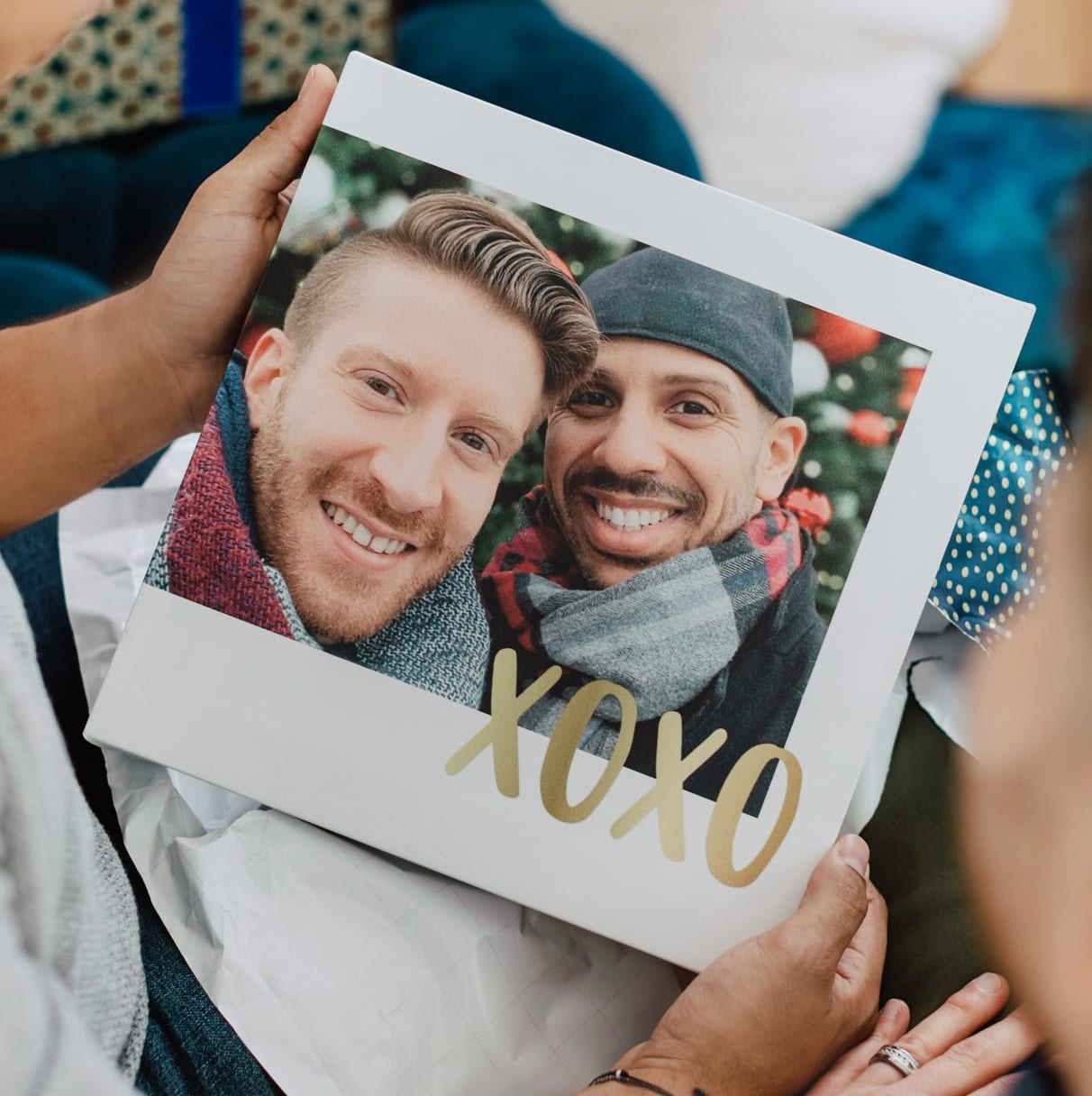 A personalized holiday gift idea: A photo book with treasured moments throughout the year via VistaPrint
To make this gift even more special, accompany your photo book with a personalized Christmas card. If you need some creative Christmas card message ideas, check out our article!
3. Level up your framed photo game
Want to let one extra-special photo shine? Go for an acrylic photo block. You can even add a line of text to your design to commemorate a special event or date – perfect for newlyweds or new parents. Whether the giftee adds it to their mantle or brings it to their office, they'll love this sleek, modern way to appreciate a favorite memory.
A personalized holiday gift idea: An acrylic photo block with a custom photo via VistaPrint
If you want to make your personalized holiday gift even more practical, opt for a custom photo frame. Adorn it with a little picture of your loved one and yourself or go with a special message only you two will understand.
4. Gift coziness with a coffee mug
If you're looking for a gift for the go-getters in your life, try designing a custom coffee mug. Choose a photo from their favorite place, a snapshot of their loved ones or a picture of a beloved pet. You can't beat this fun, one-of-a-kind way to start someone's morning off right… and remind them how much you appreciate them.
A custom mug — a great personalized holiday gift idea via VistaPrint
5. Add at-home comfort with a personalized pillow
Give the gift of customized pillows… you can even add a photo to each side! This is a perfect way to repurpose snapshots from birthdays, weddings, vacations and family events to preserve those cherished memories and keep them visible every day.
Personalized Holiday gift idea: A custom cushion with a photo via VistaPrint
6. Give smiles that last all year with a custom calendar
Show a loved one you're thinking of them all year long with a calendar. Whether it's for family, friends, colleagues, or neighbors, a custom calendar is versatile enough to suit a wide range of tastes and relationships.
Calendars don't have to be made up of just photos of your children… Let your creativity soar by including…
Aesthetically pleasing patterns
Inspirational quotes
Landscape photos
Inside jokes
Fun pics of your "crew"
A custom calendar to make your loved ones smile all year round via VistaPrint
Depending on the style and the type of the calendar you go for, you can even include more than one picture. There can be at least 12 of them for every month of the year.
Elevate the charm of your custom calendar by adding an extra touch of personalization: capture a memory from each month of the past year and place it perfectly in line with the corresponding month of the upcoming year.
7. Create a gallery wall from children's artwork
Children's artwork is like pure magic on paper, but finding ways to showcase it beyond the refrigerator can be a creative challenge.
Here's a brilliant alternative: snap photos or scan your little one's artistic triumphs, and then transform those creations into captivating three-dimensional prints on canvas, metal, or wood. Just imagine the sheer delight of turning their masterpiece into a tangible work of art that can grace any space.
These customized prints aren't just fantastic gifts – they're a heartwarming gesture for co-parents, grandparents, aunts, uncles, and friends. Plus, think about the sheer pride your kids will beam with when they witness their artwork transformed into a gallery-worthy display.
8. Design a custom T-shirt for your loved ones to rock in public and at home
A custom T-shirt is more than just a piece of clothing; it's a canvas for creativity and a showcase of the quirks that make your loved ones who they are.
From clever quotes to artsy visuals, the possibilities are as endless as the twinkle lights on the Christmas tree. And the best part? You're not just gifting them a shirt; you're handing them a wearable piece of laughter, a dash of self-expression, and a sprinkle of holiday joy.
9. Opt for a warmer wearable custom gift — print a custom sweatshirt or hoodie
Custom T-shirts make fantastic personalized holiday gifts. However, given that the weather can turn a bit chilly during Christmas, your recipients might not be able to sport them right away. If you're aiming for a wearable customized gift that they can slip into the very moment they unwrap it, why not think about something a touch warmer, such as a cozy sweatshirt or a snug hoodie?
It really is a gift that keeps on giving since hoodies aren't just for winter. They're versatile enough to be worn year-round either as an extra layer in colder months or a cozy cover-up on summer evenings.
10. Surprize your friends and family with stylish winter beanies
Even for those who usually skip hats, winter demands some head-covering warmth. So, why not give your friends a family a warm custom beanie tailored just for them by none other than you?
Whether you opt for their initials, a cherished quote, or a playful design, a custom beanie effortlessly infuses their winter wear with an extra dash of individuality. From chilly sunrise strolls to cozy evenings by the fireplace, these stylish beanies become the perfect companions.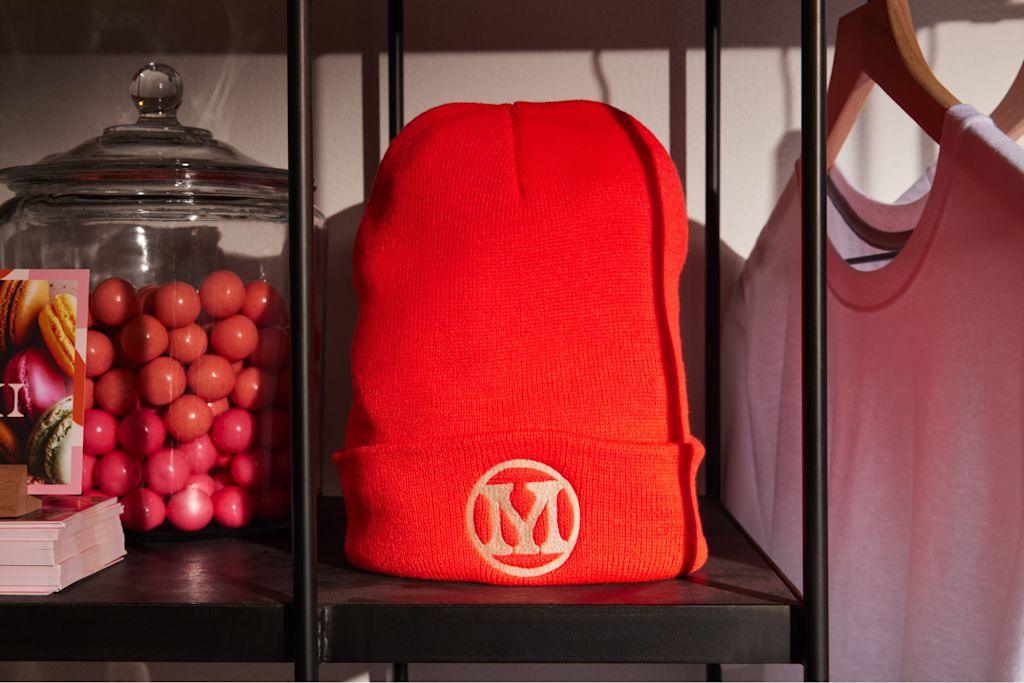 Personalized Holiday gift idea: A custom beanie with the giftee's initials via VistaPrint
11. Make the Christmas dinner cooking even more fun with a custom apron
Amid the holiday hustle, imagine a kitchen adorned not only with festive ingredients but also with personalized aprons that tell a story. Every whisk, every stir, becomes a delightful brushstroke on the canvas of a personalized apron.
Here are just a few ideas of how you can personalize an apron for everyone on your Christmas list:
Embroider their name or initials in elegant or playful fonts.
Share a cooking-inspired quote that resonates with their culinary spirit.
Print a cherished family recipe, transforming the apron into a functional keepsake.
Feature a photo of them in their cooking element or a snapshot of a favorite dish.
Add cartoon-style drawings of them as a chef, complete with chef's hat and apron.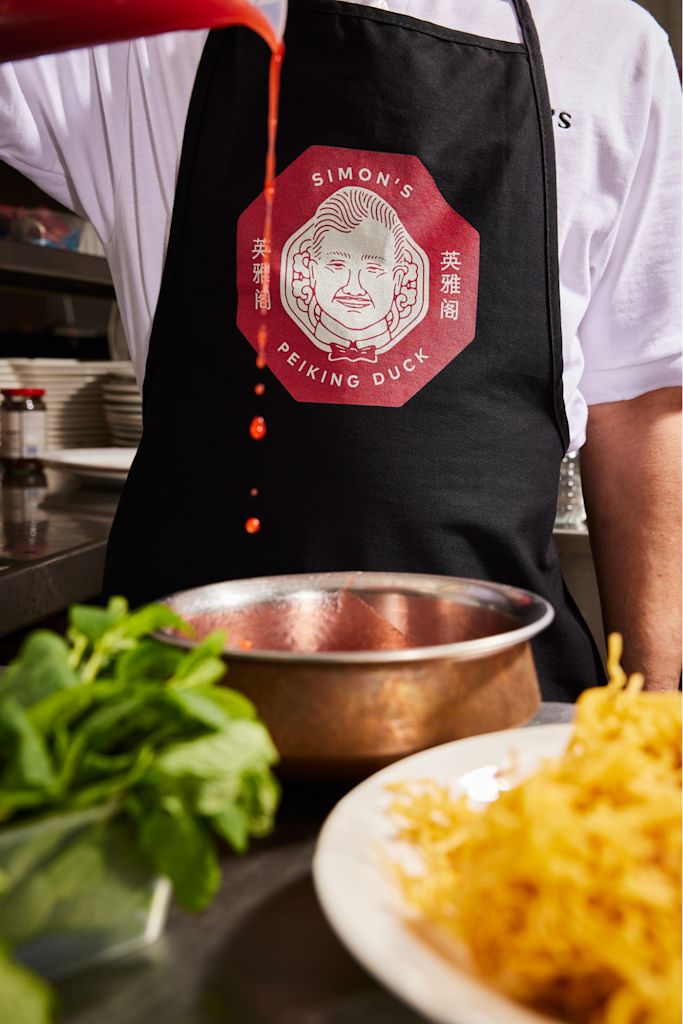 Personalized Holiday gift idea: A custom apron to elevate your loved ones' cooking sessions via VistaPrint
12. Elevate your loved ones' home interior with a custom canvas print
From the living room to the bedroom, custom canvas prints add a touch of elegance and sentiment. Whether it's a single standout piece or a curated gallery wall, every glance at the artwork becomes a journey back in time.
Capture moments that resonate – a family gathering, a breathtaking vacation scene, or a candid snapshot.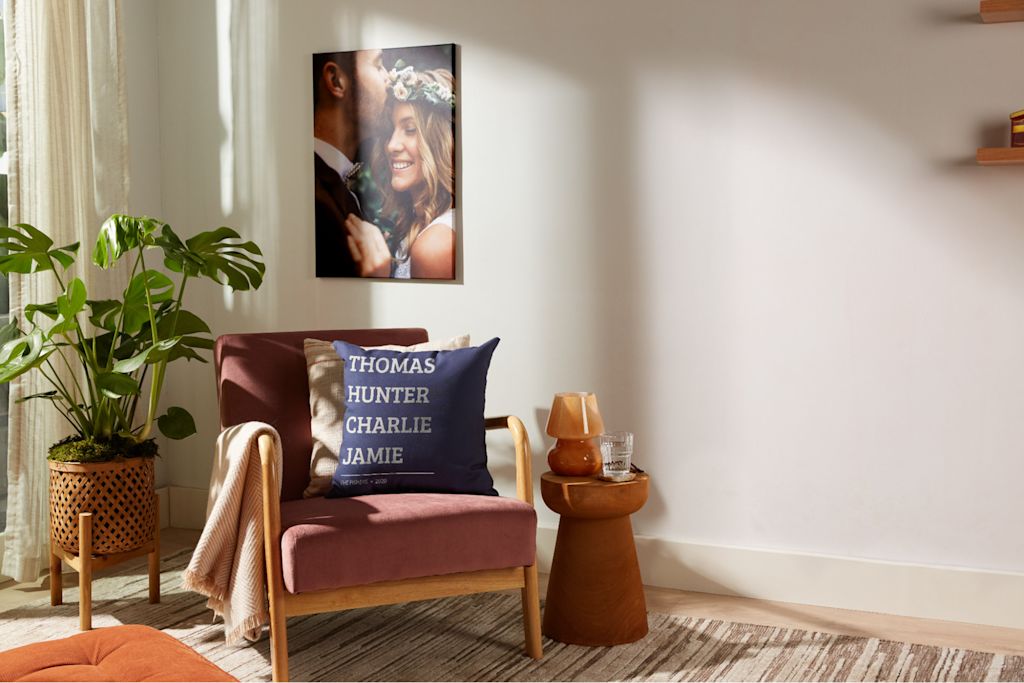 Personalized Holiday gift idea: A custom canvas print with the giftee's special moment via VistaPrint
13. Introduce a fun way to spend a Christmas staycation with custom puzzles
Family gatherings, with stories and laughter, are holiday treasures. But, in the midst of the warmth, there's a moment when you crave more than chatter, turkey, and reruns of Christmas movies.
This is where board games come in. This Christmas, gift your loved ones a custom puzzle featuring… themselves! A puzzle with their picture adds extra motivation to finish and conquer the challenge together.
Personalized Holiday gift idea: A custom puzzle with the giftee's favorite image by Paresh Jadhav via 99designs by Vista
14. Elevate your loved ones' holiday trip with custom luggage
And if your friends and family members aren't exactly fans of staycations and prefer to go away during the holidays… Make sure they embark on their adventures in ultimate style by presenting them with personalized luggage.
Custom luggage isn't just a unique and creative Christmas gift idea; it's also exceptionally practical. As the festive season unfolds, airports tend to burst with travelers, and the baggage carousel can quickly become a puzzle of look-alike bags. Custom luggage is here to save the day – and their travel experience.
Personalized Holiday gift idea: A custom suitcase by Fe Melo and Ossobüko Studio via 99designs by Vista
15. Keep them charged — literally — with custom power banks
In a world that thrives on connectivity, a drained battery can feel like a mini-disaster. Even more so, on a road trip or on a plane (yes, we're still sharing personalized Christmas gift ideas for those who love travelling). This is exactly why everyone on your Christmas list will appreciate a personalized power bank. 
Weaving seamlessly into their daily routines, these power banks ensure that smartphones, tablets, and other gadgets never run out of juice.
16. Boost your friends' New Year's Resolutions with personalized duffle bags
During the festive holiday season, indulging in scrumptious treats is all part of the joy – but sometimes, a few extra pounds might tag along. And that's precisely why "start going to the gym" often lands on the top of New Year's resolutions lists. This year, help your friends and family take on their resolutions with gusto by gifting them personalized duffle bags that inject excitement into their workout routine.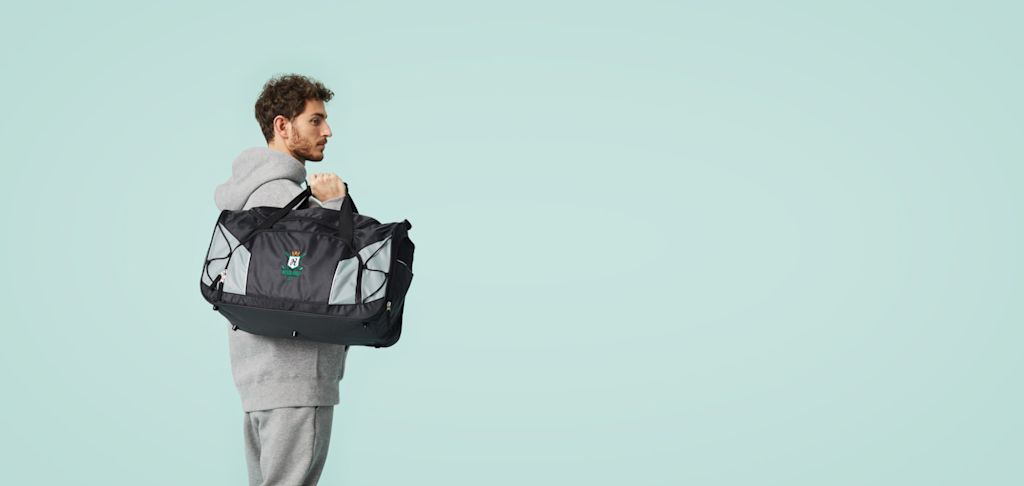 Personalized Holiday gift idea: A custom duffle bag for your giftee to rock at the gym via VistaPrint
17. Make sure your loved ones are hydrated at all times by presenting them a custom water bottle
This year, help your loved ones tackle this resolution head-on with a thoughtful gift that keeps them refreshed and rejuvenated: personalized water bottles.
This personalized Christmas gift will definitely come in handy during the festive season. After all, amidst the winter holidays, outings and gatherings are aplenty, often accompanied by a few more drinks than usual. It's the perfect time to embrace a hydration buddy that's not only stylish but also uniquely theirs.
Personalized Holiday gift idea: A custom water bottle with the giftee's name via VistaPrint
18. Elevate daily organization and embrace mindfulness with a custom notepad
In the whirlwind of life's moments, staying organized and nurturing mindfulness can feel like a challenge. But what if there was a simple yet powerful tool that effortlessly combines both?
A notepad. A gift that not only adds a touch of organization but also embraces the importance of journaling in our lives. Now, make it custom, and you got yourself a perfect personalized Christmas gift idea. 
It's also a great option for when you don't know your giftee too well — did someone say Christmas gifts for your coworkers?
19. Say 'cheers' with customized drinkware
Make happy hours at home even happier with customized wine glasses, pint glasses or can glasses. Engrave a monogram, inside joke or personal motif to create a unique drinking glass – gift it with a six-pack of their favorite beer, mocktail ingredients or a bottle of wine for an extra-special holiday present.
A customized coaster set is the perfect complement to whatever personalized drinkware you're planning on gifting. Personalize a set with photos of favorite places or graphics in their favorite colors.
20. Deck the halls with a one-of-a-kind Christmas ornament.
Did someone you love celebrate a major milestone in 2023? Commemorate it with a customized ornament that they can enjoy for years to come. Whether they're celebrating a new baby (or a promotion to Grandma), an engagement or a much-anticipated vacation, celebrate it with a one-of-a-kind photo ornament.