Estimated reading time: 7 minutes
The holidays are probably one of the busiest seasons for a small business owner. And as challenging as it may get at times, this time of the year is a unique opportunity to build customer relationships that'll last long after everyone has (finally) tired of reindeer pajamas.
So, how do you delight your customers this holiday season and turn them into loyal followers? Create a packaging design that's so pretty they'll cherish it as much as the purchase itself.
Luckily, there are many ways to win the unboxing game without having to spend a lot of money or invest in brand new holiday packaging. From seasonal botanicals to creative colors, there's no end to what you can do to deliver that extra bit of cheer.
First things first: Decide on a general look for your holiday packaging.
Before we share any ideas for packaging your holiday purchases, here's a practical piece of advice that'll help you save money and achieve a professional – yet festive! – look: Decide on your general aesthetic and stick to it. It's easy to get carried away amidst silky ribbons and shimmery holiday wrapping and end up wanting to do it all. But once you pick a look that matches the personality of your business – whether that's rustic or glamorous – beautiful, creative packaging becomes much simpler to pull off.
So, let's look at some simple and affordable holiday packaging ideas that'll win you returning customers (and those coveted Instagram shares, too).
Switch up your wrapping paper.
Dress it up with ribbon and twine.
Embellish it with hand-drawn doodles.
Spruce it up with sprigs, flowers and herbs.
When in doubt – use stickers!
Merchandize with holiday labels and hang tags.
Jazz up your packages with custom tape and return labels.
Pull out all the stops with branded boxes and mailers.
Keep it simple and practical with custom paper bags.
Add a postcard as a token of appreciation.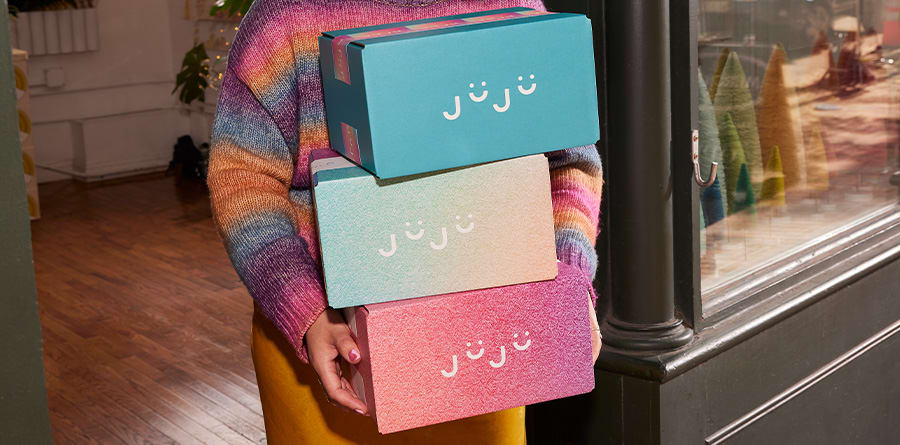 1. Switch up your wrapping paper.
The simplest and the most affordable way to make your packaging stand out is with wrapping paper. Pick a pattern or color you don't normally use and your packages will instantly feel extra-special. You don't even have to go down the traditional route of holiday greens and reds if that doesn't match your general branding. Alternative options that feel equally celebratory could be an elegant all-white or metallic look, playful polka dots or skillfully styled kraft paper. Choosing a more occasion-neutral color or pattern means you'll be able to use up any leftover paper another time, as well.
2. Dress it up with ribbon and twine.
Unless your paper-folding skills are particularly Pinterest-worthy, you'll probably want to complement your wrapping job with a few decorative details. Enter: ribbon and twine. Affordable, classic, beautiful *and* versatile.
Here are a few color combinations that feel especially festive:
Big, brightly colored satin ribbon on plain kraft paper. – Any color pairs well with kraft paper – Deep reds will look particularly festive, while elegant black will make your package feel extra luxurious.
Red-and-white twine on kraft or plain white paper. It creates a soothingly minimal, yet classic,look that still feels put together.
Black or silver ribbon on plain white paper. You can't go wrong with this timeless color combination.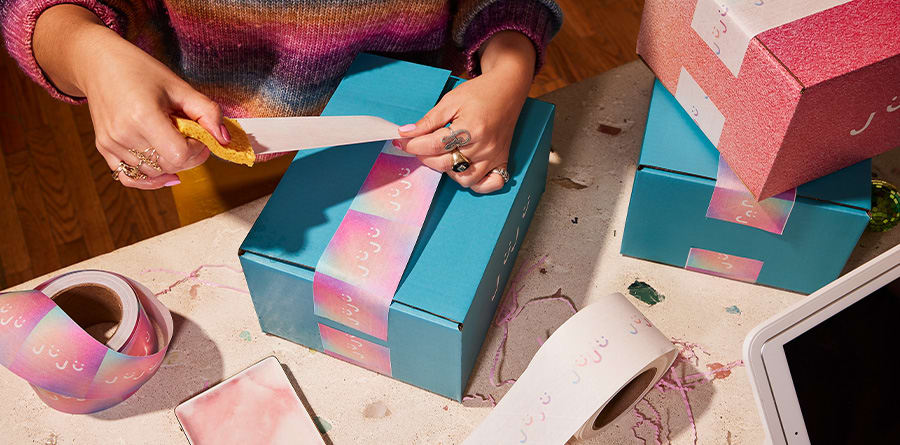 3. Embellish your packaging with hand-drawn doodles.
Yes, yes, we hear you – who has time for that! But hear us out. If you're on a tight budget and willing to get a little creative, consider adding a one-of-a-kind doodle to every package you wrap. All you need is kraft paper and a marker…and these doodles don't have to be intricate or time-consuming at all. The customers who like to shop small really appreciate this DIY element of the experience.
Here are a few ideas that are simple to pull off and sure to impress:
Snowflakes. You can add as much detail as you like, but even simple, irregular circles of different sizes will paint the right picture. Wows guaranteed if you draw them on black kraft paper for extra contrast.
Bows, garlands or ornaments. Draw them so they look like they're "hanging" from the top of the package!
Wintery trees. It may sound fancy, but if you know how to draw straight lines, you can make this scene come to life.
A simple snowman. Carrot nose optional, but encouraged.
A short, handwritten message. Get extra creative with a joke or holiday riddle.
Candy canes. Whip out your red marker for an especially Christmas-y color palette.
4. Spruce it up with sprigs, flowers and herbs.
This is another inexpensive way to create beautiful holiday packaging with strong seasonal flair. Wander off into your backyard or the nearest park or forest and take a few snips of winter greenery – juniper, cypress, fir, boxwood, bayberry…whatever you can find. Even a sprig of rosemary is a great option – it's very fragrant and it stays fresh longer than most plants.
You can keep it simple and just tuck a sprig behind some ribbon or twine, or you can pair it with additional decorative elements – like tiny baubles, jingle bells, or pinecones. Or if you're feeling particularly creative, you can make a Christmas tree from a cutting that's shaped like one (cypress or juniper are ideal) and top it with a hand-drawn star.
5. When in doubt – use stickers!
Stickers are some of the most versatile elements in any marketing kit…you can add them virtually anywhere for an instant visual upgrade. And holiday stickers are no different. Use them to seal small paper bags, tissue paper or envelopes; to adhere holly sprigs to your gift boxes; or as a surprise-and-delight element inside your packaging. (Sticker singles, anyone?)
Christmas or New Year stickers are great because they can be a cost-effective way to dress your products in holiday attire while still keeping your brand visible. And if you're looking for reusability beyond the holiday season, you can upgrade your standard sticker design with a special finish, like gold or silver foil. It will add a touch of festive glamor to your packages and it won't look out of place on other special occasions.
6. Merchandize with holiday labels and hang tags.
If you're looking for product labeling ideas, stickers are always a good choice. But to take it up a notch, add holiday-inspired hang tags into the mix. If you have a physical shop, these will do double duty – you can use them as product tags inside the store and as a branded detail on your packaging. You can even design them as Christmas gift labels and leave space for your customers to add "to" and "from" names.
7. Jazz up your packages with custom tape and return labels.
If you ship orders, branded shipping materials are a must. The outside of the package is the first thing your customers will see, souse this opportunity to impress them from the get-go. There's no need to go big and buy a stack of Christmas packaging boxes if that's outside your budget. Thoughtfully designed holiday address labels and branded packaging tape can dress up your everyday packaging. After all, the delight is often in the details.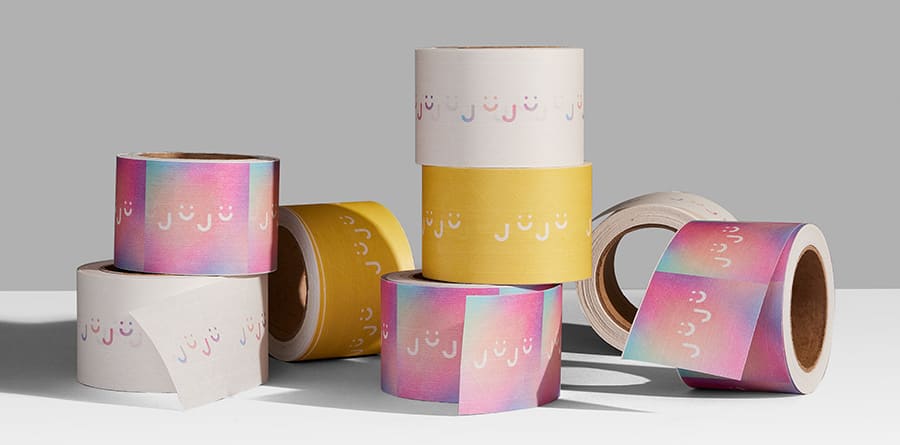 For a more eco-friendly option, try water-activated packaging tape. It's printed on recyclable kraft paper and reinforced to keep your package safe from theft or tampering.
8. Pull out all the stops with branded boxes and mailers.
Now, if you do want to go all out and create a one-of-a-kind unboxing experience, then custom mailer boxes are where it's at. Get creative and take care of every detail – strategically placed text and other design elements will guide your customer on their unboxing journey. For example, keep it simple yet enticing on the outside, then surprise them with a colorful holiday-inspired pattern once they open the box. Bonus points if you further accessorize it with tissue paper, wood wool, a few fun stickers or a personalized thank you note.
If you're shipping smaller items, custom mailers are a budget-friendly alternative that can still look sleek and festive. Use an eye-catching design on the outside and pop a thank-you coupon or a fun freebie inside as a surprise.
9. Keep it simple and practical with custom paper bags.
Not all Christmas packaging ideas have to be big and bold (and involve drawing skills). You can certainly keep things simple and still impress. Like upgrading your standard paper bags with a festive design. Plain white or brown kraft paper will successfully accommodate any color scheme, and you can additionally accessorize it with a sticker, some ribbon or twine, hang tags, or even a small ornament.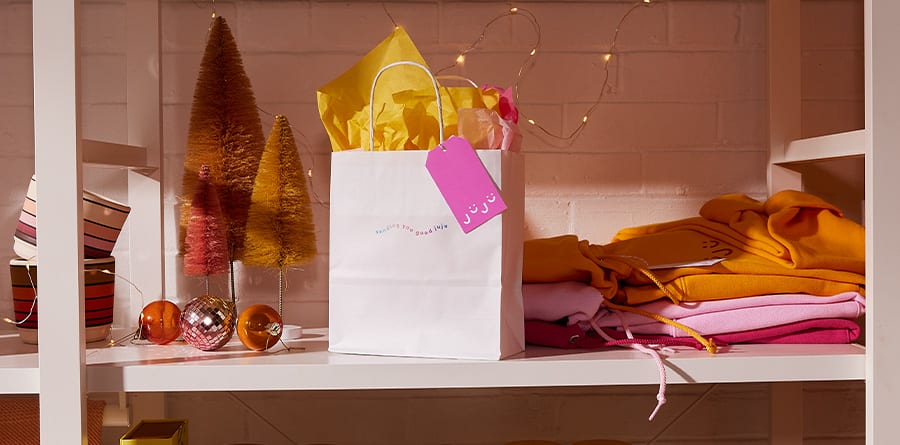 A more eco-friendly alternative are reusable tote bags. Use them as a special treat for the most loyal customers or for exceptionally large purchases. Design them pretty so that your customers want to carry them everywhere – and show off your logo in the process.
10. Add a postcard as a token of appreciation.
Thoughtful thank you cards have become a staple of small business shopping, even outside the holiday season. Small business owners truly treasure every purchase, and shoppers like to know they're appreciated.
So, for the holidays, do something extra special. A handwritten note is always a winner, but if you're short on time, you can add a printed message to a postcard and just write in the recipient's name at the top. They will love the personalized touch.
Other ways to make your note stick in their mind are to craft a funny or a relatable message, include a special offer to inspire repeat purchases or to design it so pretty they'll want to put it on display (keeping your business top of mind!).