Estimated reading time: 5 minutes
Business cards come in countless shapes, sizes, textures, and weights. Once you're ready to order your cards, there are several choices and styles of business cards to choose from.
Finding the best paper for your business cards can help you balance the quality, price, and visual impact of a product you love. Find out what business card paper types are available below and which business card stock is best for your business needs.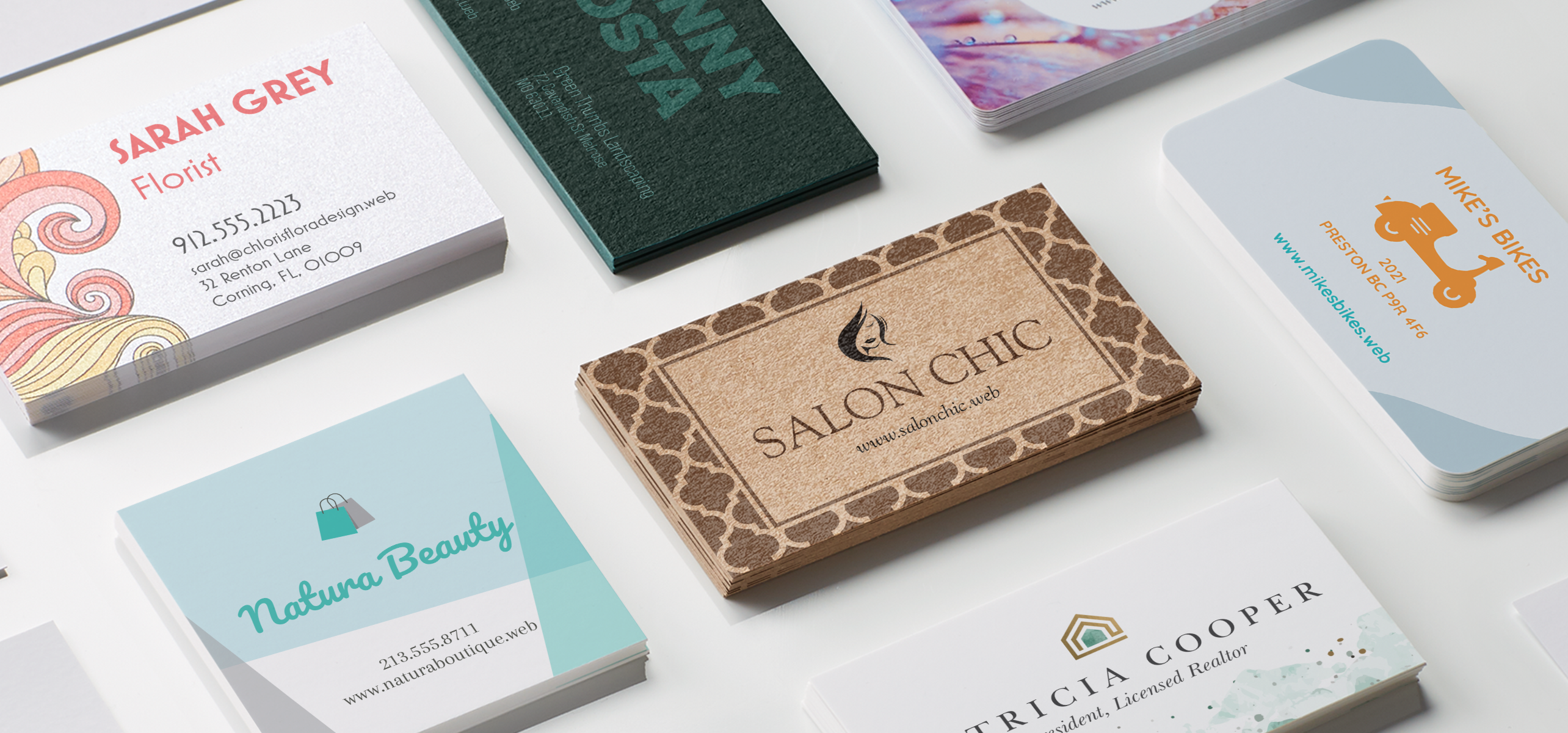 Business Card Paper Factors to Consider
Vistaprint business cards come in three styles: standard, premium, and specialty. A standard card fits countless business needs and is available in matte, glossy, and uncoated options. A standard 14pt business card paper weight and lower price point make creating your go-to card simple and easy. Premium and specialty cards can help make a more significant visual impression and allow you to create a unique brand look. Higher-quality paper stocks come in various textures, weights, and types for you to customize.
Business Card Paper Types
With various business card paper types to choose from, get familiar with the different options available to you. Paper stocks available include:
1. Matte
A matte business card is classic and coated with a smooth, shine-free finish. Matte paper is a customer favorite for countless reasons. The smooth and ink-absorbent finish makes words easy to read while still being effortless to write on or mark the card.
Feel: Silky smooth on both front and backside
Thickness: 14pt, 16pt, or 18pt
2. Glossy
Glossy business cards are another favorite since they grab attention with their light-catching qualities. Make your logo pop or lead with bold images to set a strong, confident tone. Glossy cards are excellent for bright colors and photography.
Feel: Glossy and slick feeling card front, silky card back
Thickness: 14pt, 16pt, or 18pt
3. Uncoated
Uncoated business card paper is lightly textured with no additional coatings added to the paper stock. These standard cards make an easy option for simple projects and handwritten notes.
Feel: Like a notecard
Thickness: 14pt
4. Pearl
With a shimmery look and eye-catching glitter, the pearl card stock is sure to make a statement. This remarkable business card paper adds a shimmering, light-catching surface look that creates a soft, visual glow. Pearl paper works best with light colors and simple designs.
Feel: Lightly coated and smooth, polished feel
Thickness: 16pt
5. Ultra Thick
The thickest, sturdiest business card paper available, ultra thick cards make a strong statement. This paper stock comes with a UV glossy finish, so it's both sturdy and visually clear.
Feel: Extra thick and heavy, smooth to the touch
Thickness: 32pt
6. Linen
A luxurious card option, linen cards are made from woven Italian cotton paper. Linen paper stock has an elegant, matte finish, making it a great option for businesses wanting a quality, natural feel to their business card.
Feel: A subtle weave texture
Thickness: 13pt
7. Natural Textured
Recycled materials are essential to many sustainable businesses, making them the perfect option for eco-friendly companies or projects. This business card paper is lightly speckled and made from 100% post-consumer recycled paper. The organic look and ink-absorbent paper work well with softer, muted colors and simple, geometric designs.
Feel: Lightly rippled, sturdy, and textured
Thickness: 16pt
8. Recycled Matte
Recycled matte paper has a more rustic look and feel while being an FSC® certified product made from responsibly forested materials. This 100% recycled business paper stock is excellent for everyday purposes and projects with an uncoated surface that's easy to write on and read.
Feel: An uncoated notecard
Thickness: 13pt
9. Soft Touch
Soft touch business card stock has an extra soft feel with matte lamination on both sides. This type of paper has a velvety, high-end look and feel. Make an added impression with your colorful design.
Feel: Double-sided, velvety soft lamination
Thickness: 16pt
10. Kraft
Kraft business card stock has a unique recycled look and light brown color. Made from 90% post-consumer recycled paper, it has a heavy-duty, industrial look with a durable feel.
Feel: An extra-thick paper bag texture
Thickness: 17pt
11. Bamboo
A tree-free paper option, bamboo business card stock is soft to the touch and thick yet flexible in feel. Alternative fibers sourced from 90% bamboo and 10% cotton, this unique woven texture is sure to make a big impression on potential customers.
Feel: Distinctively textured, soft, flexible feel
Thickness: 17.5pt
12. Hemp
Hemp business card paper creates a more natural, cream-colored card. Made from 30% hemp, 30% post-consumer recycled paper, and 40% responsibly forested paper, this fiber blend creates a creamy white paper with a unique visual texture and feel.
Feel: Uncoated, sturdy, and lightly textured
Thickness: 17.5pt
13. Painted Edge
These extra-thick, unexpectedly colorful cards are bold and attention-grabbing from every angle. With unique, inked corners, painted edge business cards will set you apart from the rest. Choose from 6 different colors for your corner accents to contrast with your eye-catching logo or design.
Feel: Smooth, matte lamination
Thickness: 32pt
14. Plastic
With clear and frosted options, create a business card with the same height and width as the familiar credit card, and choose from 3 material options. These unique, long-lasting cards spark interest with potential clients and help you get noticed. The interesting, waterproof, and tear-resistant materials are sure to leave an impression that outlasts the rest.
Due to legal restrictions, we cannot print any design that features elements similar to ID cards, credit cards, or bank cards.
Feel: Flexible or rigid plastic options with an extra-smooth feel
Thickness: Comparable to a credit card—available in flexible or rigid thicknesses
15. Premium Plus
Try the premium plus paper stock with a classic business card look but a more durable, quality feel. This thicker paper is available in matte, glossy, or uncoated options to suit any design needs.
Feel: Matte, glossy, or uncoated options
Thickness: 18pt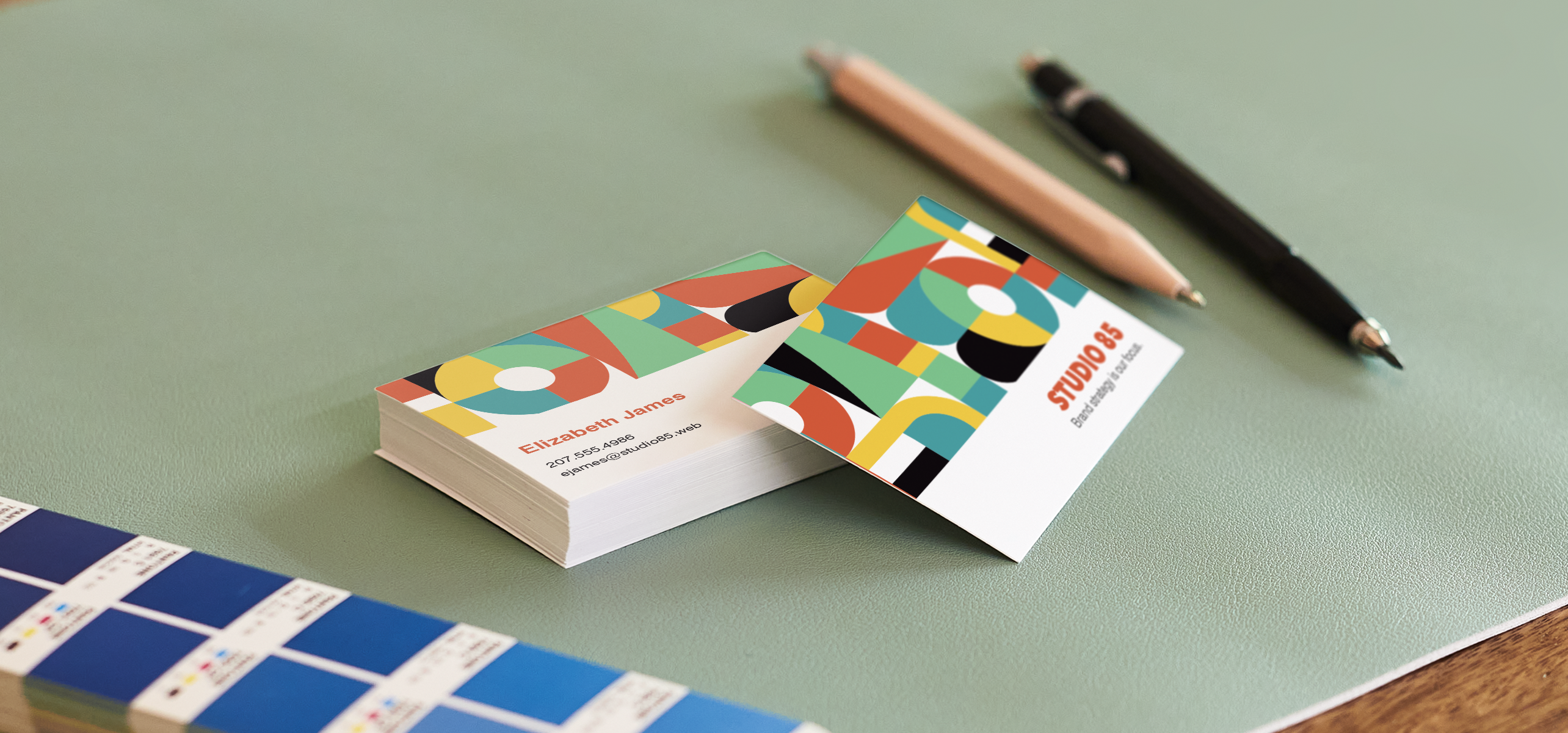 The Benefits of Getting the Right Business Card Stock
The benefits of a business card are obvious, but the benefits of picking the right details for your business card can be more subtle. Make the right impression for your business, whether your brand is luxury or economical, and choose the material that's right for your marketing needs.
Impactful Branding
Luxury and high-end brands benefit from choosing special business card stock or unique paper that conveys their brand message. A luxurious-feeling business card can capture your potential buyer's attention and show them the exclusive treatment they can expect from your brand.
Economical and accessible brands can use cost-effective, standard materials and recycled or alternative fibers. These options allow many businesses to keep their branding in line with their values. Cost-effective, impactful, and eye-catching branding can help you stand apart from your competition without compromising your budget.
Successful Marketing
Successful marketing with a great business card leaves a lasting impression on your potential client who won't just throw your business card away. Small, but impactful choices, like your business card paper, can help create the image and the message you're trying to convey in a unique, well-designed way.
FAQs
Q: What is cardstock or paper stock?
Cardstock, also known as "card stock" or "paper stock," is a popular type of paper used for different design and crafting purposes. Cardstock is thicker and more durable than regular paper, but more flexible than harder paper materials like cardboard, making it an ideal material for everyday use.
Q: What kind of paper is used for business cards?
Business cards are most often printed on standard 14 pt card stock. Other materials can include recycled paper materials, hemp, bamboo, plastic, and other paper materials of different thicknesses.
Q: What thickness is business card paper?
The most common business cards are printed on standard 14 pt card stock, although 16pt, 18pt, and thicker paper options up to 32pt are widely available.
Q: What is the heaviest business card stock available?
Ultra thick business card stock at a 32pt thickness is the heaviest card stock for business card printing.
Q: What is the most popular business card paper?
Premium cards are the most popular type of business card paper, allowing businesses and professionals to customize the right product for their branding. Matte and glossy business card paper are classic customer favorites.
Q: What should I consider when evaluating the best business card paper type?
When deciding the best paper for business cards, consider how your final product will be used. Networking can benefit from a more unique paper option, while appointment setting and rewards cards must be easy to write on and read. Consider how your design will look on paper. Will the image work well on your material, and will the colors complement well? Think through both the visual appeal of your design and its practical use.
Q: What is GSM (Grams Per Square Meter)?
"GSM" stands for "grams per square meter" and acts as an industry standard for measuring the weight of different types of paper. It represents the weight of a sample sheet cut to one square meter of material in size.
Q: Why does business card paper weight matter so much?
The weight and thickness of your business card paper add to the overall impression your material makes. For example, a heavier paper can feel like better quality and impart long-lasting and trustworthy feelings toward your brand.
Designing the perfect business card for your brand starts with picking the right materials for your needs. Choose the right business card stock for your project and start printing your customized Vistaprint business cards today.
Author Bio:
Kristin Yarbrough is a traveling freelance writer with a passion for teaching people how to create a balanced approach to business management. She specializes in small business, entrepreneurial concepts, and strategies for building a less stressful, more successful business and lifestyle. She also works with The Glorious Company, a content marketing agency.