Estimated reading time: 3 minutes

Beautiful design can help grow your business – especially when it translates into branding that works everywhere your customers see you. Whether you already have a logo you love or need help designing one, here, you'll learn how to show off your branding on everything from Instagram posts to packaging tape. And then, get ready to watch your small business grow.
Find the right design approach.
As a small business owner, you wear a lot of hats – and you don't need to be a seasoned designer to get great design for your business. Take Rivet + Roar, for example. This vintage clothing brand was able to customize an existing template to create a logo that works for them and reflects their business name and identity.
Or, maybe you already have a logo design and you need to create some marketing materials. Try tackling it yourself with a customizable template for flyers, business cards, postcards and more. Choose a template with a layout that works for you, then adjust the colours and fonts to reflect your brand. (And don't forget to add your logo!)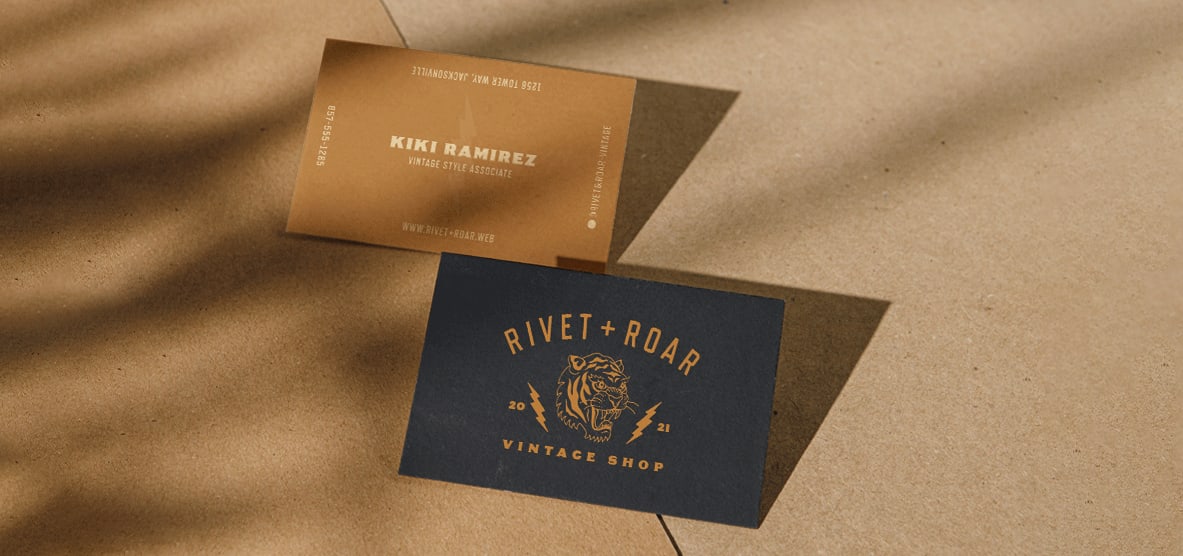 If you're looking for a one-of-a-kind design, work with a professional designer to bring your ideas to life. When you partner with a 99designs by Vista designer, you'll be working with someone who's dedicated to understanding your mission and vision…and the finished product will be something that's totally unique to your business.
Elevate your print marketing presence.
Now that you have a great look for your business, how can you use that design (and your brand colours and fonts) across printed marketing materials? Rivet + Roar uses design to make all of their marketing materials distinctively different – though the whole suite looks cohesive thanks to consistent brand colours and a stand-out logo.
Their business card has a two-sided design that utilizes both of their brand colours in a way that's aesthetically pleasing *and* practical – they can divide important info between both sides, and let their logo stand loud and proud on the front. Business cards are often a customer's first interaction with your brand…so it's important to prioritize great design at this touchpoint. And with business cards that look this good, customers will be proud to pass them out to their friends and family.
Rivet + Roar differentiates their postcards with a photo on one side, printed in muted tones that complement the gold in their branding. There's also a promo code on their postcard as a way to say 'thank you' to shoppers and incentivize a return visit.
Since Rivet + Roar has an e-commerce business, they ship orders – so, packaging tape is a natural choice for adding their branding to boxes, mailing envelopes and more. Their packaging tape is instantly recognizable thanks to the repeated logo design in their brand colours.
Spread the word about your social presence on your printed materials – include your Instagram handle and website URL on postcards, business cards, tote bags and more.
Get your design seen in the wild.
Traditional marketing tools – like postcards and business cards – are essential for any small business, but experiential marketing tools can *really* boost brand visibility beyond your walls. Plus, when you have a logo as beautiful as Rivet + Roar's, customers will be proud to tote it (or wear it!) around town.
Rivet + Roar uses their signature logo design on their tote bags, which feature their logo as a bold graphic element and their URL to drive people online. With their stand-out look and practicality, these totes are something customers will use again and again…boosting Rivet + Roar's visibility around town (and beyond).
Water bottles are another great – and useful – way to get your brand seen around town. Rivet + Roar's gold-hued branding creates a striking contrast on an all-olack bottle, and makes it a must-carry for customers. Whether you use totes and water bottles as merchandise or giveaways, they're sure to become a customer-favourite.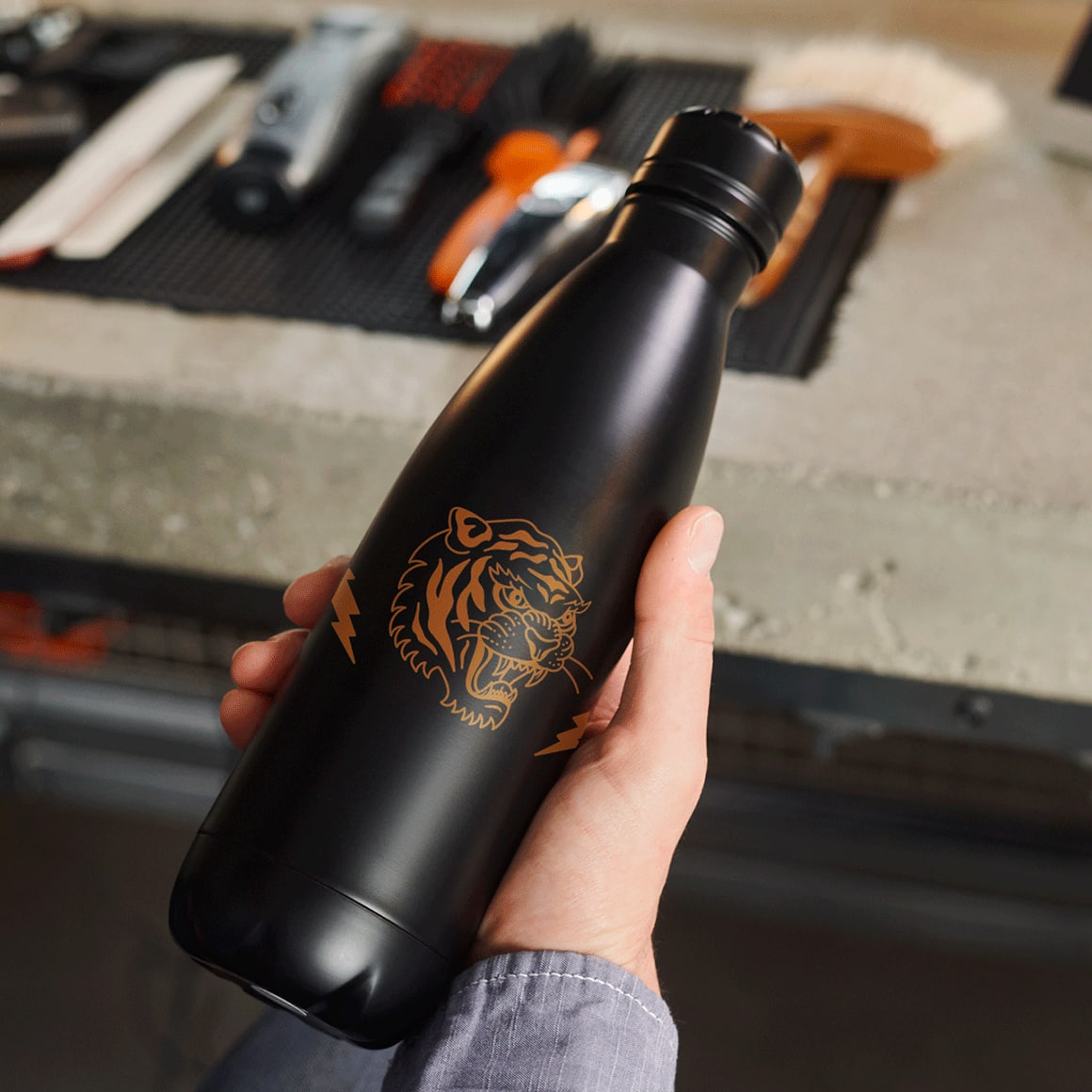 Develop a social presence that's tailor-made to you.
A social media presence is key for small business growth – so, make sure everything you post reflects your brand. Consider using a consistent colour palette, sticking with one or two fonts and adding your logo when it feels relevant. You can also create a collection of customized templates that you can repurpose and reuse – like Rivet + Roar does when they announce a new sale or upcoming promotion.
Beyond the actual design of your social posts, think about the content. If you're a clothing company, like Rivet + Roar, it might make sense to share Instagram reels about fashion trends or make TikToks with styling tips. Whatever you decide to post, make sure it will resonate with your audience and accurately represent your brand.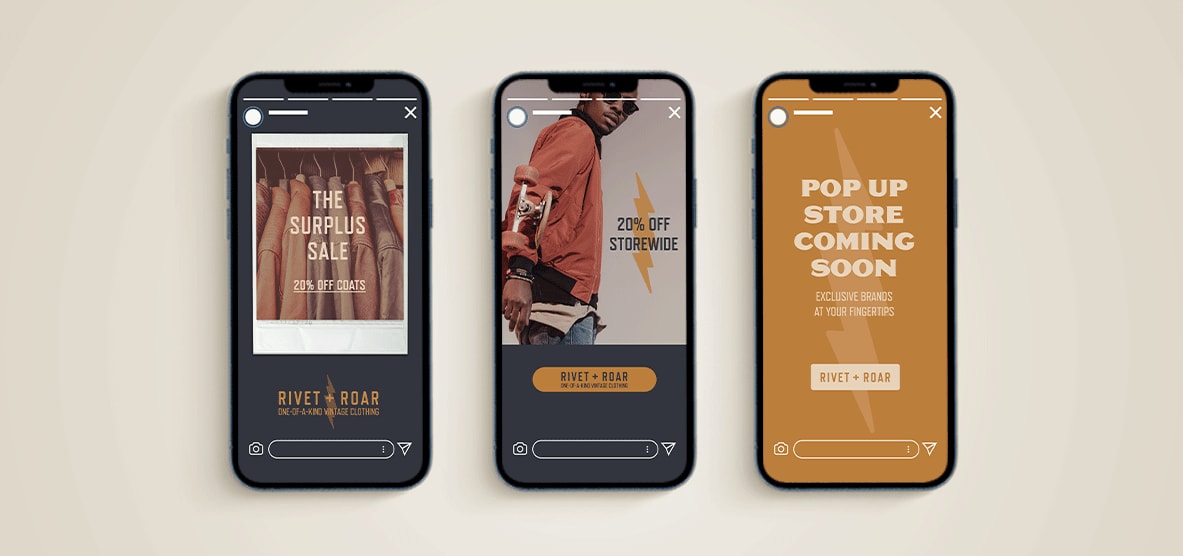 Need help creating stand-out social posts? Check out VistaCreate, a tool that makes it easy to create beautiful, completely customized posts for every social platform.
The finished look
See how it all comes together for Rivet + Roar.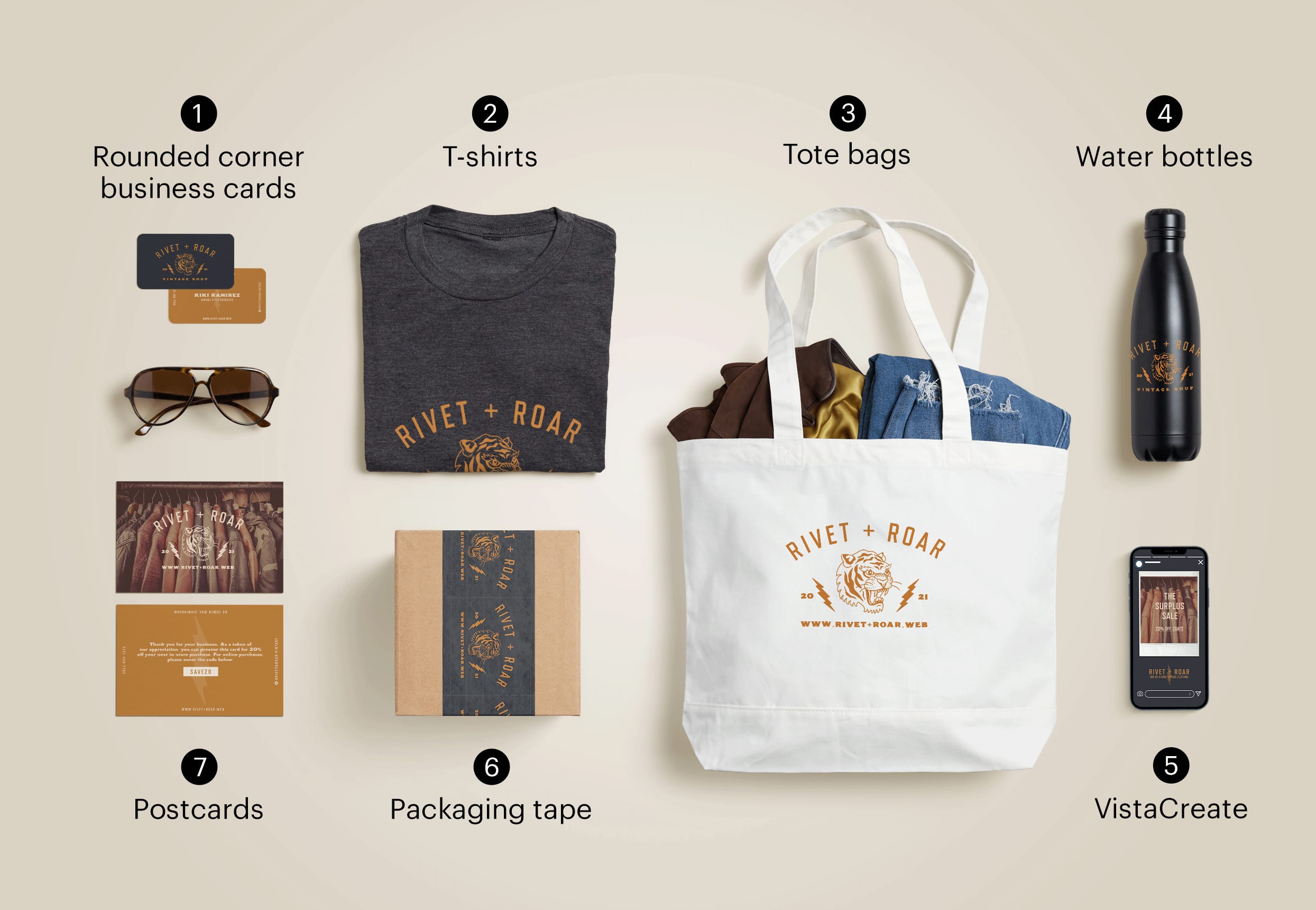 1. Rounded corner business cards. Stand out with a distinctive shape.
2. T-shirts. Build brand recognition on the go with a logo tee.
3. Tote bags. Encourage customers to tote your brand all around town.
4. Water bottles. Give your brand visibility beyond your brick-and-mortar.
5. VistaCreate. Find a social template that works for you – and add your branding.
6. Packaging tape. Send your branding through the mail.
7. Postcards. Spread the word about your business with branded postcards.Shortcode